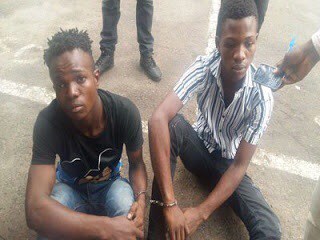 An apprentice, Chimobi Sylvester, monday confessed to the police in Lagos how he kidnapped his master's eight-year-old son because of his refusal to pay him his settlement after working for him for four years.
The 23-year-old suspect made this confession after he was arrested and paraded at the command headquarters, Ikeja alongside his accomplice, 20-year-old Emmanuel Blessing.
He said: "I worked as a sales boy and apprentice for him but after spending four years, when it was time for him to settle me, he asked me to go back to village to do something else.
After I had spent two months in the village, I came back to Lagos to kidnap his son with the hope that through the kidnapping, I would be able to get my money back from him. I lived with him so I know he is not always at home.
I relied on that and contacted one of my friends, Emmanuel Blessing and we went to his house last week Thursday. We lured his son and took him away with ease because he knows me very well.
I took the boy to the apartment given to me by the hotel management where I worked at Oyingbo area, and locked him up in the room. While in our captivity, Blessing contacted my boss and informed him that his son had been kidnapped and we demanded for ransom of N5 Million.
After the man agreed to pay the N5 million ransom, I went to the bank with a friend to withdraw the money not knowing that anti-kidnapping policemen were around and we were arrested.".
The Commissioner of Police, Lagos State Police Command, Mr. Fatai Owoseni, who paraded the suspects, urged businessmen who bring young boys to work or learn a trade to always fulfill their part of the bargain.
He, however, said the suspects would be charged to court after completion of investigation into the matter, adding that the boy had since been reunited with his family.

Load more