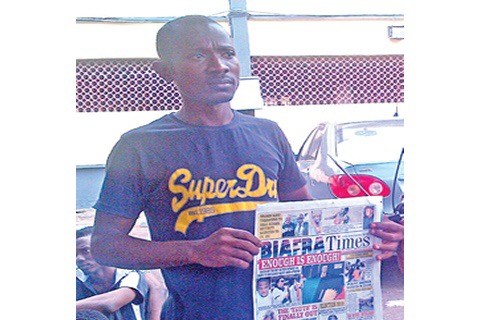 Police has arrested the publisher of the Biafran Times Magazine, Peter Eke (30), at Somolu area of Lagos State.
He was arrested alongside staff of his publishing firm – Azeez Ayoola (30), Rafiu Qudus (25), Adewunmi Tope (22), Kunle Olushola (22) and Akeem Adebakin (49). Others are Ayodeji Gbemi (30), Akeem Bisiriyu (34) and Shakiru Folohunsho (25).
The state Commissioner of Police, Fatai Owoseni, paraded the publisher and staff of the printing company before journalists at the Command Headquarters, Ikeja yesterday. He described the publication as "seditious" which could bring disharmony and chaos in the state.
Owoseni said the command would invoke the law on anyone playing an ethnic tune and working against the unity of the country. But Eke said he did not know that publishing the Biafran Times magazine in the state was an offence.
He said: "I have published some sporting papers before because of low patronage; I decided to publish the Biafran Times because I knew Igbo people who reside in Lagos would buy it. I am only doing it to put food on my table.
I love my country and I love my president. My intention is not to fight my country; I just want to pass out information to those who have no access to the Internet. I usually go on the Internet to source for information and publish.
"I decided to specialise on Biafra Times when I discovered it is always a sell-out. We usually sell between 6,000 and 7,000 copies weekly because of the name. Each copy, according to him, goes for N100 nationwide."
Fatai Owoseni, police commissioner, said 515 copies of the "offending" newspaper were recovered during a raid on the printing press of the organisation in the Shomolu area of Lagos.
"This is an offence punishable under the Criminal Law of Lagos state," he said. He added that the suspects would be charged to court as soon as detectives finished interrogating them.

Load more