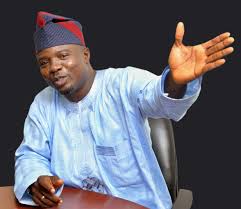 A Member of the House of Representatives, representing Lagos Mainland Federal Constituency and former Chairman of Yaba LCDA, Jide Jimoh, in this interview with JAMIU YISA, speaks about his mission at the National Assembly, lessons learnt from Asiwaju Bola Ahmed Tinubu and other issues. Excerpts.
What is your mission at the National Assembly?
Well, my mission at the National Assembly is majorly service to the people through my contribution into making laws that will benefit the generality of the citizenry. And luckily for me, it has been good and interesting. We thank God for that.
What are the different experiences between being a State House of Assembly member and Local Council Chairman on one hand and being a legislator at the national level on the other hand?
As far as I am concerned, all the various levels of governance are for one and the same purpose. They are majorly about governance, about politics and about policy. The most important thing about life generally is that whatever you want to do, just have your mission and vision combined. And glory be to God that He has given me both.
With my earlier experiences at the Lagos State House of Assembly and the office of Mr. Chairman of a Local Council, I find things very easy at the National Assembly and I thank God for the wisdom He has given me. I also appreciate our indefatigable leader, Asiwaju Bola Ahmed Tinubu for what he has taught us that anywhere you find yourself, just make sure the basic ingredient of governance is service. So, on that advice, I stand and that was why I got myself prepared to serve my people to the best of my ability and with utmost sincerity. And that has been my guiding principle since my days as member of the Lagos State of Assembly to my time as a Local Council Chairman till now in the House of Representatives. And thank God I have been doing well.
First timer are always swallowed up in the House, is it different in your own case?
Going by my political antecedent, you will realize that I am not new to legislative and executive duties. And throughout the world, legislative duties are the same. Legislative duties comprise of three major things namely, passage of Bills, representation and motion. And if you have to go through the main thing which is passage of Bills into Law, we have three major stages; First Reading, Second Reading and Third Reading. When you are capable of scaling those huddles, you have passed. And thankfully enough, I have no problem in all those legislative intricacies.
Does that mean that as a first timer, you have been moving motions and sponsoring Bills?
That is stating the obvious. It will interest you to note that I am not a 'siddon look' legislator. I am not at all a bench warmer in the National Assembly. From my first day there, I hit the ground running. There has never been a debate on matters of national importance that I have not added my voice. If we are talking about the motions I have moved on the floor, they are more than 26. And if we are talking of Bills, I have sponsored Bills some of which have gotten to the Third Reading.
Firstly,few of the motions I have moved were; "Unemployment Crisis: Need for State of Emergency and Legislative Intervention," (Co-sponsored with Honourable Femi Gbajabiamila). Secondly, tt is about the need for the government to create employment opportunities for the teeming majority of our youth. That motion has been passed into Resolution and thank God for that. Another one is "Matter of urgent public importance: Urgent need to address the poor service delivery of the Nigeria Fire Service." The Motion seeks for provision of fire fighting machines for every state in the country for effective battle against fire outbreak because fire has no boundary and it has no respect for anything. Thank God, that also has scaled through.
Others included, Confronting Piracy in the Nigeria Entertainment Industry. Curbing menace of unlatched containers and trucks on the Nigeria highways by the Federal Road Safety Corps and the unbearable traffic nightmares on Nigeria's major highways. Matter of Urgent Public Importance: International Certificate of Vaccination (a.k.a Yellow Card) for saving Nigeria from global embarrassment as approved by the World health Organization (W.H.O).
I have also moved a Motion on Education. I can go on and on. On Bills, I have sponsored a Bill for an Act to establish the Nigeria Prosecution Service (NPC) with a view to enhancing the administration of Justice system in Nigeria and for other matters related to it. I have also sponsored a Bill for the establishment of Traditional Medicine Council of Nigeria and for other matters connected with it.
It is a Bill to assist the orthodox medicine by way of facilitating the system like what is happening in India and some other overseas countries. It is just an alternate way of treatment for our people. That Bill has passed a second reading.
The last Bill I sponsored was titled: A Bill for an Act to establish Weights and Measures Council for Retail Commodities, to make provision for monitoring and implementation of standardized measures of consumable products and for other related matters. It is about weighing and measurement for commodities in Nigeria. If you travel anywhere in the world, you cannot just enter a super market to buy anything anyhow. You need to weigh it in order to get correct value for you money without cheating. It has to be measured in grams. This Bill will ensure equity among the citizenry if it scales through. And at the end of the day, we will realize that things are done in the normal way. Nigerians need to be properly enlightened on the proper ways of doing things. This Bill has also passed second reading and now moving towards the third reading. And you can be optimistic that a Bill that has gone beyond a second reading has the chance of scaling through to get the President's assent.
Coming down home, how visible are you in your constituency?
With due respect, I would not want to blow my own trumpet on that. I have a very busy and functional constituency office at 362, Borno Way, Alagomeji, Yaba. I will advise that you go to my constituency on a fact finding mission. I can assure you that you will get firsthand information that will convince you about my popularity among my people. Just ask a few people to confirm how visible Jide Jimoh is in his constituency and among his people. Ask them how popular he is as far as political relevance is concerned.
And again, there are several other things we have to think about. Some people don't know that Legislature is not Executive. And policies we are trying to put up in Nigeria are different from what are obtainable in other countries that have been practising democracy over the years. If you think that a legislator must come round to execute one project or the other, I will say it is not his duty to do so. But if any legislator does it, let us be informed that he does so from his own personal pocket. It is not part of his responsibility to do it. It is part of the responsibilities of the Executive to do it.
And I want you to know that during the last year's Budget Appropriation, I was able to succeed in proving the need to bring a very tangible and solid project to Lagos Mainland Federal Constituency particularly the moribund Fire Service Station that has been there for years which is completely dead now. That one will be reactivated and that project, I can assure you, in the next few months, Lagos people will be enjoying that facility.

What about your own constituency projects?
It is not Constituency Project perse. they are my own projects I have executed to assist the down trodden people of my constituency, particularly the youth, the widows and the aged. Some of these we have done and we have the record for them. And even if you go to the constituency, people will tell you more. I would not want to blow my trumpet. I challenge people to go there and talk to my good people there.
But if you insist I should mention a few of them, then, I will say we provided tricycles (keke Napep) to assist our youth, we provided molding machines to assist our unemployed people. We have provided grinding machines also to assist our constituents. I have also sunk boreholes within the locality as it is today. I want you to know that we have also provided security apparatus for all the schools, mosques and churches in our area to assist in checkmating crime. And these have been helpful. I know how many of these gadgets I provided and I know how much money we sank into the project.
I have also helped the aged in terms of provision of cloths, food and accommodation. Provision of houses for people might be difficult for an individual, but the little I can do to assist, I have been doing that. In education, I have also assisted a number of our students in terms of scholarship and other forms of assistance.
All these projects are the ones executed in the last one and a half year of my being in the National Assembly. If I should start to mentions others executed during my time as a Local Council Chairman, we would not have enough time for that now.

Load more