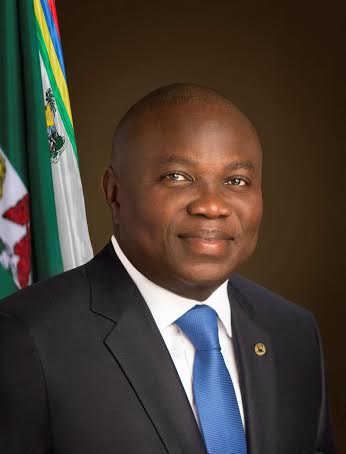 Governor Akinwunmi Ambode of Lagos State on Monday vowed to banish Yellow commercial buses from Lagos roads this year.
Ambode spoke while delivering the 14th annual lecture of the Centre for Value and Leadership held at the MUSON Centre, Onikan, Lagos, Southwest Nigeria.
The governor who delivered the paper titled: "Living well together, tomorrow: The Challenges of Africa's future Cities," said that connectivity was a critical element for a mega city to work, which requires having mass transit system to move people from one point to another.
Ambode admitted that the present connectivity mode in Lagos was not acceptable and befitting for a mega city, and as such a well-structured transportation mode would soon be put in place to address the challenge.
"When I wake up in the morning and see all these yellow buses and see Okada and all kinds of tricycles and then we claim we are a mega city, that is not true and we must first acknowledge that that is a faulty connectivity that we are running.
"Having accepted that, we have to look for the solution and that is why we want to banish yellow buses this year. We must address the issue of connectivity that makes people to move around with ease and that is where we are going.
"For instance, people going from Ikorodu to CMS have started leaving their cars at home because the buses are very convenient and so why can't we do that for other places? Yes, we don't have the money to do that but we can go to the capital market and then improve on the technology of collection of fares and that will encourage investors and then the city will change," Ambode said.
In his lecture, the governor said Lagos represented an example of a mega city with huge infrastructural gap, population growth, among others, adding that the issues lying at the heart of urban policy-making in any city, old or new, developed or developing included infrastructure, employment, population growth, economic sustainability and environmental viability.
"In addition to these, there is the classic urban challenges of overcrowding, unplanned and chaotic growth, insufficient provision of municipal services, from policing to healthcare to education to electricity and sewage – all of which are top of the agenda in many African cities. There is perhaps no better classic example of where these challenges of rapid urbanization come to life than in Lagos.
"It is estimated that 86 immigrants enter Lagos every hour –the highest in any city in the world – and they have no plans to leave. This is because Lagos has remained over time and most especially in the last decade, the most attractive destination for those who want to realise and live their Nigerian dream. This ever increasing population of the state however means that we have to be "on our toes" to provide facilities for this more than 23 million population," he said.
Ambode said combating the challenges of rapid population growth in cities, and realising the inherent opportunities required new business models, technologies and planning approaches that challenge the traditional city development models.
He stressed that innovation and technology is enhancing the livability, sustainability and productivity of 'smarter' cities in both northern and southern hemispheres, adding that countries and cities that were entering a period of rapid urbanisation could therefore make better choices about urban development and about how to position themselves in the global or regional economy.
The governor said Lagos had continued to make progress since 1999, saying that "we have managed to sustain the momentum of growth of the state economy in spite of the increasing population and the need to provide utilities. This is taking place even in the face of economic crises and the dwindling revenue from oil."
Ambode stated that if anyone ever thought of winning the battle of urban challenge, one must pierce into issues lying at the heart of urban policy making and execution, saying that he remained focused on some of the issues which included infrastructure, security, job creation, power, adopting technology as an enabler, driving investment and the ease of doing business, among other indicators.
"As we strive to attain the objective of making Lagos a top city of opportunity, we would in the course of the next 24 months focus on certain key initiatives, such as completion of the Blue Rail Line, bus reforms and transportation system, massive reforms in the waste and sanitation system, affordable housing, particularly through the Rent-To-Own scheme and as we celebrate Lagos at 50 this year, using it as a launch pad to make Lagos a tourist destination in Africa," he said.
Ambode explained that Lagos was too much of a cosmopolitan city that government must practice inclusive governance, in which no one must be left behind, saying that "our sub-urban cities are becoming economically viable and liveable. From Badagry, Ikorodu to Epe, there are evidential efforts to attest to this.
"Lagos is an emerging clean, smart, secure and very prosperous mega city open for business and full of opportunities. As you might be well aware, if Lagos was a country, it would be the 5th largest economy on the continent and come 2020, it is our aspiration to become the 3rd largest economy in Africa. The story therefore is simple: the people are here, the market is here, the technology is here and you have an investor friendly government as your host. You do not want to be anywhere else."
The governor said despite his administration's modest gains, "we know that there are significant challenges to be overcome. The developmental point here is that urban advance is a matter of many (larger or smaller) steps over a long period of time. But they must all be coordinated, and they require a consistency of practice.
The keynote speaker at the event, Professor Paul Collier, said that between now and 2050, the population of cities on the continent will triple, which is a huge opportunity, though with a downside of having slums if concerted efforts to plan the development.
Collier stated that oil has been more of cause to Nigeria than blessing wondering how the country degenerated into oil providing about 80 percent of it annual revenue.
According to him, "oil has messed up the country," adding that it was good that oil price had fallen drastically because it now gives the country opportunity to re-plan and diversify the economy away from oil.
He said that for any mega city to work, issues of energy, connectivity, housing and land were critical, which means investment in infrastructure is necessary.
-Kazeem Ugbodaga

Load more