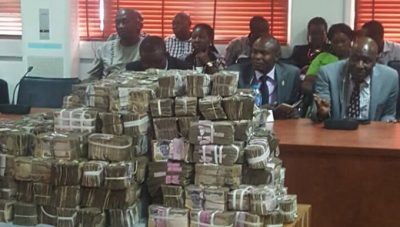 The Nigeria Police has recovered more than N111 million from electoral officials alleged to have been bribed by Rivers state government to rig the December 10, 2016 legislative rerun elections in the state.
A panel set up by the Inspector-General of Police which presented its report in Abuja on Tuesday said the money was recovered from 23 suspects allegedly bribed to rig the polls.
The chairman of the panel, DCP Damian Okoro disclosed that, "the sum total of N111.3 million was recovered from 23 electoral officials out of N360m.
He said that some got N15 million each while three senior electoral officers got N20 million each.
More later.

Load more