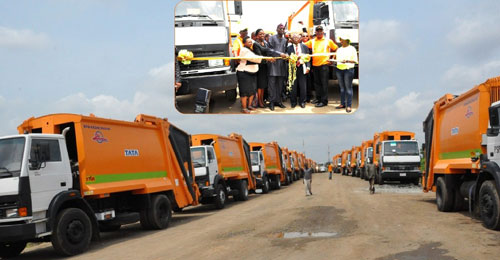 The Association of Waste Managers of Nigeria (AWAN) on Thursday pleaded with the Lagos State House of Assembly to protect their investments in state's Cleaner Lagos Initiative.
The initiative will replace the state monthly sanitation exercise.
The new sanitation policy is part of the 251-section Environmental Management and Protection Bill, 2017 before the House.
The executive bill is entitled: "Bill for Law to Provide for the Management, Protection and Sustainable Development of the Environment in Lagos State and for other Connected Purposes''.
A public hearing on the bill is ongoing.
The protesting waste managers claimed that about 2,500 people might lose their means of livelihood if the new sanitation policy scales through the House.
They carried placards with inscription such as "Lagos Ministry of the Environment wants to cede our services to foreign firms'', "Monopoly! Wetin we fit do self", and "Inequitable! 80 per cent to Oyinbo, 20 per cent to Lagosians not Acceptable".
Mr Taju Ekemode, the Spokesman for the over 200 protesters told NAN that the new government policy, which ceded evacuation of 80 per cent of wastes in Lagos to foreign investors, would destroy their investments.
Ekemode, the Vice Chairman of AWAN, said: "Where are here today to let the lawmakers know our feelings, what we suffer and what we may suffer with the Cleaner Lagos Initiative of the current executive.
"We have been doing this job well over years, and there have been no problems.
"The government plan to organise foreign firms to come and clean Lagos is absurd; we cannot agree to that.
"We are not against reform in any way, but the reform should be around the current Private Sector Participation (PSP); that is what we are saying.
"The policy directing us to leave the streets, to allow foreign firms to takes, over will kill businesses. Where do we put those trucks? We can't use them to carry sand.
"Those trucks cannot be used for any other things apart from wastes. What do we do with our investments? What do we do to the loans we got from banks?'' he asked.
He noted that Gov. Akinwunmi Ambode directed that PSP should be cleaning commercial places.
"But the percentage of commercial centre in Lagos is just about 20 compared to what is being ceded to foreign investment."
According to him, many PSP operators collected loans from banks which they are still servicing.
He added that many Lagos residents owed PSP operators much debts, and that areas allocated to them would be inadequate for the about 350 operators.
He urged the House to ensure that reform should be around the existing operations.
The state government had said that the initiative became imperative due to challenges inherent in the environmental laws of the state.

Load more