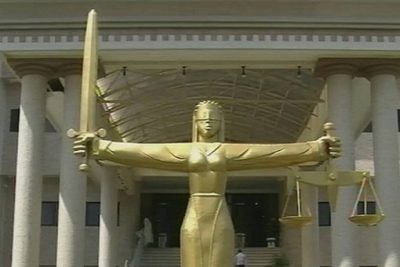 There was mild drama on Tuesday at Idi Ogungun Customary Court, Agodi-Ibadan, when a woman, Monsurat Adeleke, and her lover, Bayo Ogunsola, disagreed over the paternity of her three and a half –year- old son.
Monsurat had approached the court seeking an order to restrain the defendant from parading himself as the biological father of her son.
In her testimony, Monsurat told the court that she was six months pregnant when she met the defendant in a hotel.
According to her, the defendant used a spell on her which made her leave her matrimonial home about three years ago to live with him in his house.
"I was under the spell for three years and this made me deliver the baby in the defendant's house and I left his house for my matrimonial home recently when the spell was broken.
"My husband is the biological father of the child in question and I pray the court to give an order to stop the defendant from claiming to be the father of the child,'' Monsurat said.
In his defence, Ogunsola insisted that the complainant conceived and gave birth to the child in his house.
According to the defendant, he had met the woman in a hotel owned by his brother and wooed her.
"There was a day I called her and asked for reasons why she comes to a hotel always; she told me that her husband was not responsible.
"I promised to marry her if she could stop frequenting the hotel and she agreed.
"She subsequently packed into my house where we both lived as husband and wife.
"She conceived and gave birth to the child in the course of our living together.
"Only recently, she packed out and returned to her former husband.
"The only thing I need from her is my child because the child is mine and I am not ready to allow her take my child to another man,'' the defendant said.
The President of the Court, Chief Mukaila Balogun, adjourned the case till Feb. 27 for continuation of hearing and asked both parties to bring their witnesses with other evidence.

Load more