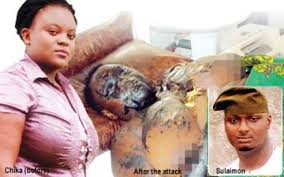 By Kazeem Ugbodaga
A Lagos High Court in Ikeja has sentenced a man, Sulaiman Olalekan to death by hanging for the murder of his wife, Mrs Chika Egbo on November 20, 2012 in a case of domestic violence.
The convict (Olalekan), on the fateful day, had poured acid on his Wife, having become overwhelmed by the fact that the deceased went back to prostitution against his best advice.
Trial judge, Justice Lawal Akapo, in his judgment, convicted Olalekan for the murder of his wife and sentenced him to death accordingly.
After the sad incidence which resulted in the eventual death of the victim, Chika, and in line with the zero tolerance posture of the Governor Akinwunmi Ambode-led administration on issues of domestic violence, the Lagos State Government through the State's Ministry of Justice had taken over the prosecution of the case and filed necessary processes in court.
Olalekan reportedly met the deceased at Signal Hotel in Ijeshatedo area of Lagos State, where they started a relationship that resulted in marriage.
It was after the marriage that Olalekan bought her a second hand Volkswagen Bus and paid her school fees at the Enugu College of Education.
But the deceased reportedly reneged on her commitment to the relationship by returning to prostitution, which caused Olalekan to procure acid from a battery charger in Ikotun area of the State and deceitfully invited her to visit with his mother on the said day when he poured raw acid on the deceased.
The victim was admitted at the Lagos University Teaching Hospital (LUTH) for emergency medical treatment, where she eventually died.
Justice Akapo, in arriving at his judgment, said he believed that the murder of Chika Egbo by Olalekan was premeditated.
The State Attorney General and Commissioner for Justice, Mr Adeniji Kazeem, who was the lead prosecuting Counsel, in his reaction to the judgment, thanked the Court for a well-considered punishment.
He said: "Today's judgment is a victory in our fight against domestic violence and a victory for domestic violence victims."
Governor Ambode, it would be recalled, had pledged to make Lagos uncomfortable for perpetrators of domestic violence when he led an All-Male Walk against Sexual and Gender Based Violence (SGBV) late last year.
Save
Load more