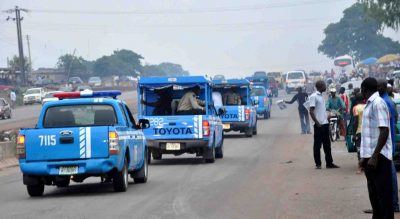 The Federal Road Safety Corps (FRSC) in Anambra says it has arrested no fewer than 657 motorists for non-installation of Speed Limiting Device in their vehicles in February.
Mr Sunday Ajayi, the FRSC Sector Commander made the disclosure in Awka on Monday.
Ajayi said that 107 offenders were tried by a mobile court of which 102 were convicted.
According to him, 51 of the convictions were in relation to the non-installation of the device while others were due to other offenses including route violation, speeding, overloading and dangerous driving.
"In the month of February, we arrested not less than 657 offenders for non-installation of speed limiting device in their vehicles.
"Apart from that, we arranged mobile courts where some offenders that failed to comply with the installation of speed limiting device in their vehicles were taken before a magistrate.
"About 107 were arraigned during this period and 102 were convicted, and among the 102 convicted 51 were as a result of failure to install speed limiting device.
We have been able to drive home to road users, fleet operators that on Nigerian roads today, you cannot drive without installing the device," he said.
The sector commander pointed out that the enforcement had resulted to increased demand for the device by motorists.
Ajayi encouraged them to approach the vendors or nearest FRSC unit command or visit www.speedlimiting device.frsc.go.ng for inquiries on how to purchase the device.
He said the command was determined to reduce crashes by 15 percent and fatality by 25 percent in 2017.
Ajayi said that the FRSC would focus on major risk factors including speeding, intensify advocacy and effective engagement of stakeholders to bring down the figure and ensure safe roads.

Load more