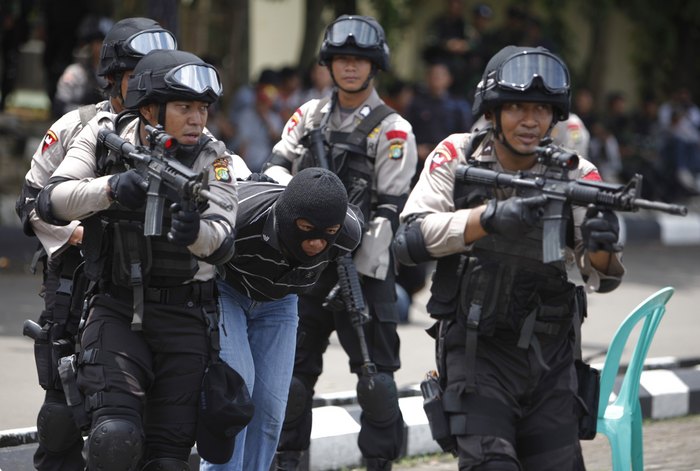 Anti-terror squad of the Indonesian national police have arrested two alleged militants, the bomb maker and financial provider for a terror attack, a police officer disclosed on Monday.
National Police Spokesman Inspector General Boy Amar, said at the national police headquarters that Agus, alias Abu Abdullah and Soleh alias Zalzalat or Gungun were captured recently.
They were allegedly linked with the terror attack on a government building in the provincial capital of West Java in February.
"Both men provided funds to finance the terror attack in the city on February 27,'' the spokesman said.
Another national police spokesman Senior Commissioner Martinus Sitompul said Soleh provided the bombs for the attack after he made them at his own chemical laboratory.
"Soleh has skill in making bombs. The laboratory in Babakan Ciparay is allegedly owned by him.
"In addition to the government office building, the militants had also targeted headquarters of the provincial police office and several smaller police stations.
"This reflects their revenge against the police," Sitompul added.
On Feb. 27, a militant identified as Yayat Chadiyah was shot dead by the anti-terror squad.
This was after he let off a pressure cooker bomb in a park at the West Java provincial capital and burned a nearby government office building.