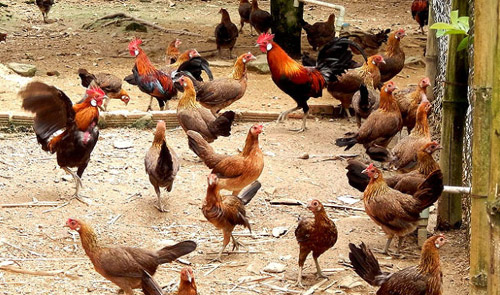 The Police at Tedi-Muwo Police Post in Ojo, near Lagos on Monday arrested a 55-year-man, Kazeem Obada, for allegedly stealing fowls.
The owner of the fowls, Mr Chigozie Okoye, told a police team that arrested the suspect that he had lost five fowls and some eggs to thieves last week.
He explained that he rented the space, housing his shop at a compound where the suspect was working as a security man and that he was paying the security man weekly.
"I have a poultry farm at the Lagos State Ojo Farm Settlement but for quick sales l always bring fowl to the residential area where my shop is.
"On Wednesday l left the shop for the farm in the care of the suspect as my wife who used to be there had just put to bed.
"When l came back in the evening, l found that the wine net of the fowl shop has been burgled with fowls missing.
"I made enquiry from neighbours and they told me that they saw the suspect around the place when l was away.
"Because it was afternoon and the man is the caretaker of the place, the neighbours cannot question what he was doing around the place.
"I accosted him on the matter and he owned up that he only took two fowls from the shop and that he would give me the money later.''
According to Okoye, the latest incident will make it the third time the security man has taken fowls without paying him.
He said that what made him arrest Obada was that he came to the shop and saw his shop damaged and that no single fowl was left in the shop.
"I left the place by 9 p.m. on Sunday with 12 fowls inside the shop on getting to the place this morning, there was none there and the place was damaged.
"It was when l got to the suspect's place that l saw the tarpaulin l used to shield the fowls from rain, carefully hidden in his place and he was not around.
"On further probe, his wife told me that both of them have been quarrying over the fowls all through the night.
"The wife told me that her husband knew the where about of the fowls and has been scolding her to keep sealed lips over it,'' Okoye stated.
On sighting the police, the suspect made attempt to escape but was out-witted by Okoye, who grabbed him and handed him over for further interrogation.
One of the policemen, Mr Sunday Ibe, said that the matter was first reported by Okoye on March 8 and that his men came upon getting the report of another fowl-stealing incident.

Load more