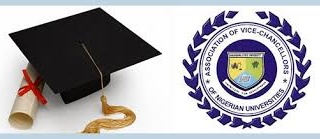 The Committee of Vice Chancellors of Nigerian Universities says it is no longer realistic to have tuition-free university education in Nigeria and canvassed for a change in the policy.
The vice chancellors said in a communiqué that a change in policy would enable parents, guardians and government "to equitably share the financial burden of education".
The communiqué, signed by Prof. Michael Faborode, the Committee's Secretary-General, was issued after its biennial meeting in Abuja.
"This will enable students pay revised fees commensurate with the true value of university education.
"The current inclination towards free tuition or free university education is unrealistic to the national vision for practical and qualitative education and not sustainable.
"To account and provide for poor and indigent students, government is encouraged to set up/re-establish an Education Bank to provide loans and access to finance,'' the vice chancellors said.
It urged university managements to "think out of the box" to exploit all alternative and additional means of funding universities, including payment of tuition fees.
The communiqué also called for a holistic overhaul of the education sector so as to tackle the decay reflected from the primary to the tertiary levels.
The vice chancellors urged universities to work out fresh strategies to build linkages with industries and partnerships with the private sector.
They urged the Federal Government to ensure sustainable funding of universities and other tertiary institutions to make them relevant, globally competitive and be properly positioned to spearhead sustainable development.
The communiqué also advised government to increase scholarships, bursaries and other aids for students desirous of pursuing tertiary and postgraduate education.
It urged university managements to control the unending labour disputes in campuses and ensure transparent and accountable management of resources.
It called on the government to ensure that full university autonomy was attained and sustained in Nigerian universities.
"In this regard, and as captured in the laws of the various universities, Councils should be given unfettered leeway to deal with all matters in their respective universities.
"Such that the task of university governance should be wholesomely formulated by the Governing Council, on paper and in practice, including determining its future direction and fostering an environment in which the institutional mission is achieved.
"As independent arbiters, Councils are central to industrial harmony, peace and stability on campuses and indeed the entire Nigerian university system,'' it said.
The communiqué further said that proprietors of private universities should adhere strictly to guidelines and templates for appointing chairmen and members of the councils.
This, the communiqué said, would ensure that only the best in society were saddled with the task of governing the nation's universities.

Load more