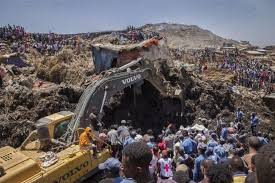 Bereaved families tussled with rescue workers on Tuesday at the site of an Ethiopian rubbish dump where a landslide killed 65 people.
Relatives pushed and shoved the handful of emergency workers, angrily accusing them of delays and saying dozens of people were still missing after Saturday's disaster at the Reppi dump in the capital of Addis Ababa.
"Nobody is helping us. We are doing all the digging ourselves.
It is shameful," Kaleab Tsegaye, a relative of one victim told Reuters.
Parents scrabbled through a towering pile of fetid garbage on Monday, screaming the names of children buried when a mountain of trash collapsed on makeshift homes and killed at least 65 people.
"My babies, my babies, my little daughter," cried one man wandering through the garbage dump in the Ethiopian capital, tears streaming down his face.
The landslide late on Saturday destroyed 49 dwellings and left 28 people injured, city spokesman Amare Mekonen said. Residents said dozens were still missing.
Hundreds of people live on the 50-year-old Reppi dump, the city's only landfill site, scavenging for food and items they can sell such as recyclable metal.
On Monday, rescuers used bulldozers to move piles of trash as hundreds of people gathered at the scene, weeping and praying. Some dug through the garbage with their hands.
On one side of the hill, volunteers sobbed as they pulled out three corpses, including a child found on top of its mother.
Meselu Damte said the weeping man had lost his wife and four children.
"Their bodies were found in the morning," she said. "There are still houses that are to be found and many of my neighbors are inside."
Diggers used makeshift stretchers of plastic sheets to carry corpses to a single ambulance parked nearby.
Some volunteers expressed anger at the city administration.
Only three ambulance workers were at the site.
Scuffles broke out between them and residents as journalists approached.