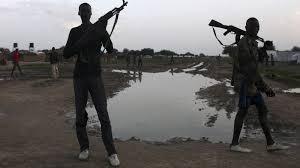 South Sudanese rebels on Tuesday revealed that they will only negotiate with the Indian government over the release of two Indian oil workers captured on Thursday at Guelguk in the northern Upper Nile region.
South Sudan People's Liberation Army-in Opposition (SPLA-IO) spokesman Col. William Gatjiath who admitted holding the oil workers told Xinhua that they preferred negotiations with the Indian government.
"We need Indian government to come down and negotiate with us in our (Pagak) headquarters," he said.
Pagak is located near the Ethiopian border and used to host high command meetings of the SPLA-IO led by rebel leader and former first vice president Riek Machar who has been exiled in South Africa after fleeing the renewed July clash in 2016.
Information Minister Michael Makuei earlier ruled out any negotiations with the SPLA-IO whom he accused of demanding one million U.S dollars in ransom for the abducted oil workers.
"The government of South Sudan will not pay anybody (SPLA-IO).
"This will encourage terrorism," Makuei revealed on Monday, and instead demanded for unconditional release of the oil workers.
But it remains to be seen if the Indian government will give in to the rebel demands, after the South Sudanese Minister of Petroleum Ezekiel Gatkuoth having disclosed that the latter had left the Juba government to deal with the situation.
"The Indian government told us they are not going to get enter into this," Gatkuoth said.
South Sudan descended into violence in December 2013, following political dispute between president Salva Kiir and former vice president Machar resulting in killing of tens of thousands and displacement of more than two million.
However, renewed July fighting in 2016 threatened to tear apart the fragile 2015 peace agreement to end the conflict.
NAN reports that SPLA-IO spokesman William Deng said in a statement the Indians "refused to respect repeated warnings from the military command of the armed opposition".
He claimed the engineers were working for the South Sudan government led by President Salva Kiir and were captured on March 9.
Deng said on Saturday the two Indians will be held until a decision is made on their fate by opposition leader Machar, who is in exile in South Africa.
Another opposition spokesman, Mabior Garang, said ransom or other demands are unlikely because they would be "would be inconsistent with our objectives".
The Indian Embassy in South Sudan had no immediate comment.
The rebel group also said that its forces "disintegrated, defeated, and killed" at least 33 government soldiers in the fighting and took control of the area.
Deng said foreign oil workers should "think before they set foot in any oil production site" and that "oil companies (should) value the lives of their employees".
On Friday, the rebels had warned foreign workers to stop risking their lives in oil production sites.
They also said they want to stop oil production till a peaceful solution is reached with the government.
The new oilfield in Guelguk North, located near the border with Sudan, is one of the main oil production areas and a source of revenue for the South Sudan government.
The East African country has been devastated by three years of civil war.

Load more