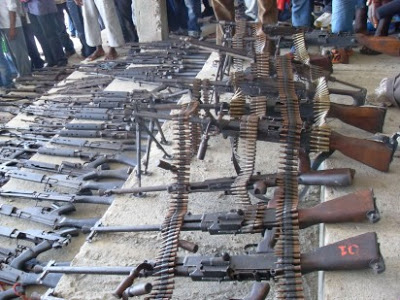 The Nigerian Army says it will on Thursday commence the destruction of arms and ammunition recovered from repentant militants and cultists in Rivers.
Col. Aminu Iliyasu, the Army Spokesman, 6 Division, Port Harcourt, said this in Port Harcourt on Wednesday.
Iliyasu in a statement said that explosives seized from the former agitators would also be detonated and called for caution from residents.
"The 6 Division in conjunction with the Rivers State Amnesty Committee wishes to announce that it will commence the destruction and the demolition of arms, ammunition and explosives recovered from repentant militants.
"The exercise which will start on Thursday, March 16, and end on Friday, March 17, will hold at Igwuruta Army Range from 6:00 a.m. to 5:00 p.m. daily.
"Similarly, minor explosives' test will also be conducted within 6 Division, Port Harcourt Barracks, during the same period.
"The division urges residents, commuters and farmers within the two locations not to panic on hearing the sounds of explosions as they will be controlled by experts," he said.
Iliyasu advised residents to avoid the shooting range area during the period of the exercise.
The army spokesman said that Gov. Nyesom Wike of Rivers was expected to witness the exercise.
The Rivers Government had in 2016 offered amnesty to hundreds of repentant cultists and militants in its bid to stem killings in the state.
Thousands of arms, ammunition and dynamites were submitted by the former cultists and militants to the Rivers State Government.