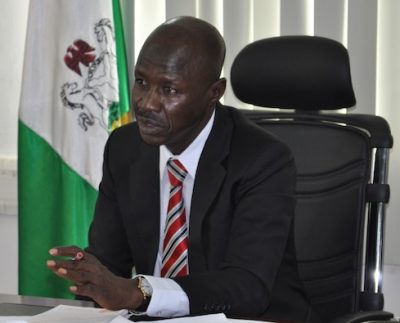 The Senate on Thursday rejected the nomination of Ibrahim Magu as the Chairman of the Economic and Financial Crimes Commission (EFCC).
The Senate rejected the nomination following a letter by the Department of State Security (DSS) which upheld an earlier letter that Magu failed the integrity test and was unfit for the office.
NAN reports that the DSS letter which was sent to the Senate on Wednesday stressed that Mr Magu would constitute "a liability to the anti-corruption fight of the present administration".
Magu was rejected on Wednesday, after appearance before the Senate for his confirmation hearing during which Dino Melaye raised the SSS report dated March 14.
"In the light of the foregoing, Magu has failed the integrity test and will eventually constitute a liability to the anti-corruption stand of the current government," the SSS report, read by Melaye, stated.
Although Magu had answered to the satisfaction of lawmakers earlier questions he was asked, senators challenged his suitability given the report against him by the SSS.
Magu questioned the credibility of the SSS which he said dispatched two reports on him with varying contents same day.
"What do you say about credibility of that agency?" he queried.

Load more