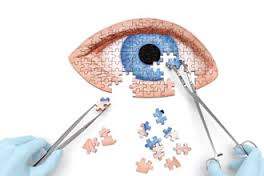 A consultant ophthalmologist, Dr Adeola Onakoya, on Wednesday warned the populace against patronising dispensing opticians for eye testing and screening.
Onakoya, who is the Head of Department of Ophthalmology, Lagos University Teaching Hospital (LUTH), Idi-Araba, gave the warning in Lagos.
She said this in Lagos to commemorate the 2017 World Glaucoma Week.
The programme was initiated by the Pfizer Specialities and Glaucoma Patients to commemorate the 2017 World Glaucoma Week holding between March I2 and I8.
Its theme is entitled: "Beat Invisible Glaucoma.''
Onakoya said, "Majority of Nigerians do not understand the various roles of eye physicians in diagnosing eye problems and diseases, which often leads to late presentation of eye diseases.
"The dispensing opticians do not have anything to do with the examination of the eyes; these are people who do your lenses, glace and fit it into the frame.
"Unfortunately, they are people that many Nigerians patronise; they are those we see on the streets of Lagos and people go there year in and out.
"What they are checking is the straight ahead vision that is not affected in the early stages of eye diseases such as in glaucoma.
"Once the person can read they put lenses for you and say there is no problem with your eyes, but by the time the patient detects a problem, it becomes very late.
"That is why 80 to 90 per cent of our patients present their cases at the very late stage.
"We have issues with the late presentation and that is why lots of people become blind from glaucoma," she said.
Onakoya urged Nigerians to always ensure that they check their eyes with the right person to prevent late presentation of eye diseases and also reduce blindness from glaucoma.
"An ophthalmologist is the doctor that specialised further in the cure of eyes and these are people that are capable of managing glaucoma appropriately.
"The ophthalmologists are also different from the opticians; opticians are vision technicians who test the eyes and prescribe classes, if one is unable to see well.
"Ophthalmologists are also equipped to make the diagnosis of glaucoma, especially the late ones, while it may be difficult in some early stages.
"Opticians are expected to refer glaucoma cases to the ophthalmologist who is well-equipped to manage the patient appropriately," she said.
The consultant described glaucoma as a symptomless eye disease which affects peripheral vision at early stage and later affects the straight ahead vision, leading to blindness.
She said that glaucoma blindness could be controlled, if detected early and when patients comply with the prescribed treatments, by taking their medication regularly.
Onakoya, however, urged Nigerians who have family members that were blind, especially their parents, to present them for glaucoma screening.
"Most people, who have blind family members or elderly parents usually ascribe such blindness to old age.
"Old age is not synonymous with blindness.
"If you have an elderly one who is not seeing well, there is a reason for it; it is either cataract, glaucoma or age-related macular degeneration (AMD).
"Age-related macular degeneration is a problem with your retina. It happens when a part of the retina called the macula is damaged.
"One can get some treatments for all these, especially at the early stage before they develop and lead to blindness," she said.

Load more