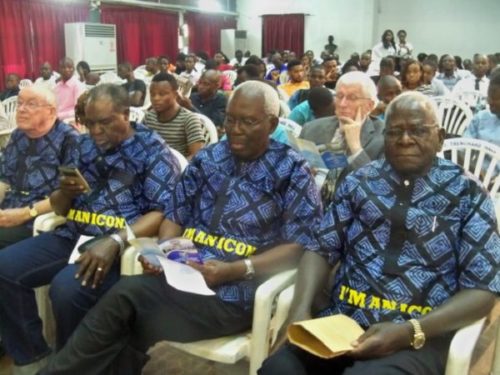 Gbenro Adesina/Ibadan
Trenchard Hall of the University of Ibadan, UI, was filled to the brim on Monday March 13 2017, as scholars including Professor Femi Osofisan, Dean, Faculty of Arts, Professor A. B. Ekanola, Professor Ayobami Kehinde, Professor Nelson Fasina and students gathered for the maiden interactive session with four icons of English Language.
The icons who dressed in simple trousers and 'Adire' tops with an inscription, 'I am an icon' were: Emeritus Professor Ayo Banjo and his "twin brother", Emeritus Professor Ayo Bamgbose, both of UI, Emeritus Professor Munzali Jubril of Bayero University, Kano and Professor David Jowitt of University of Jos. The occasion was equally meant to celebrate these language icons for their commitment towards English studies and the description of Nigerian English over time. It was also an occasion to appreciate them for spending the better part of their lives in producing other numerous English Language icons.
The peak of the event, which was organized by the university's English Language Clinic, ELC, was the presentations of awards and gifts to these "grey haired" icons by the university and the University Press.
In his welcome address, the institution's Vice Chancellor, Professor Abel Idowu Olayinka, who showered encomium on the icons, noted that the best time to celebrate people is when they were alive pointing out that the selected icons deserved the honour being conferred on them by the university.
Olayinka, who jokingly advocated that the premier university could be named after Professor Ayo Bamgbose, revealed that the first and almost the only person he is asked of whenever he travels abroad is Professor Ayo Bamgbose. His words, "We can name the University of Ibadan after Professor Ayo Bamgbose because anytime I travel abroad, once people over there find out that I am from the University of Ibadan, the next thing for them is to ask of Bamgbose". He opined that the transcending of the icons beyond UI indicated that excellence is not limited to the premier university but spread across Nigeria.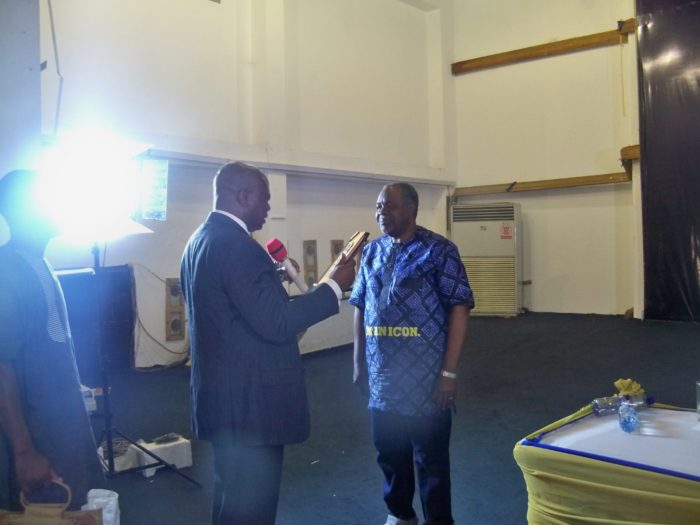 In her short remark, the ELC Chairperson, renowned Professor Adenike Akinjobi, who described the icons as the pillars of English studies in Nigeria, noted that history has been made for honoring those whom honour is due. "Today, we celebrate four icons for their profound contributions to English studies in Nigeria. To these distinguished icons, we are proud to be your mentees, Sirs. You have put us on the path of diligence and commitment to English studies. We celebrate you today and always", she stated.
Pointing out that the event would be annual, Akinjobi explained that the English Language Clinic Lectures Series was inaugurated in 2011 by late Professor Kolawole Olu-Owolabi as a remedial effort for the deteriorating use of English in the premier university and Nigeria as a whole. According to her, "I was appointed the chairperson of the committee to organize the lectures. The creditable maiden lecture delivered by Emeritus Professor Banjo was the catalyst for what we refer to as the University of Ibadan English Language Clinic Project today. With the support of the university management through the Postgraduate School, the project has been expanded beyond the lecture series to include a social network interactive learning forum with about 60,000 active members on Facebook and a walk-in clinic for individual diagnoses and treatment of problems that are related to the use of English. In addition, we have engaged in the editing of projects, dissertations, theses and other documents as well as installed free e-dictionaries for the university community members and others. Likewise, we have successfully distributed about 20 gigabytes of free English electronic materials across Nigerian universities".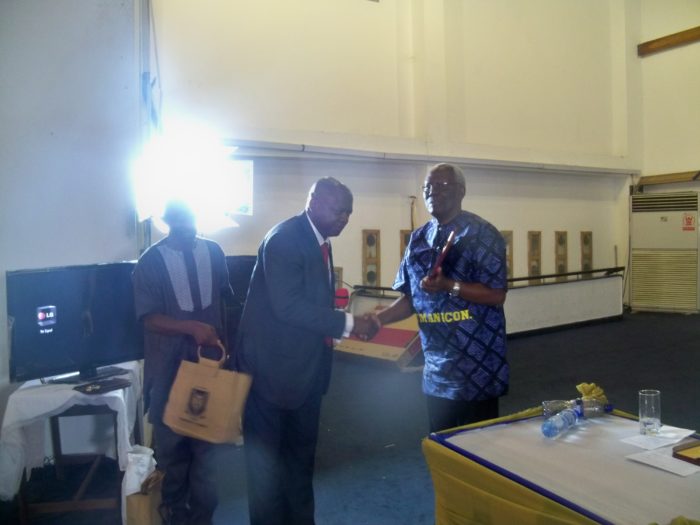 In the same vein, the Head of Department of English, Professor Babatunde Omobowale, who regarded the awardees as great scholars and mentors, noted that they were brought together at the single forum for a shared celebration and recognition. Declaring these foursome as pillars on which the study of the English Language in Nigeria would continue to rest, he stated, "I am proud as one of the illustrious academic offsprings of these great men. Professor Banjo was Vice Chancellor when I was an undergraduate student of the department. I have always drawn mentorship from Professor Bamgbose, though at some distance, since his teaching days in our prestigious premier faculty and also as an emeritus Professor of our prestigious university. I have read some of his great works and benefitted greatly by them. The same applies to Professor Jowitt and Professor Jubril".
Concluding, he said, "I believe they deserve as much commendation and panegyric as one could come up with. Besides, the occasion is not designed primarily to sing the praise of these men of honour. It is to avail all of us the rare opportunity to share from their wealth of acknowledge and experience. It is to let us have insight into what makes a great mind. It is to avail us the opportunity to meet, feel, and probably touch the great men we have revered for ages through interaction with their written works. Perhaps, it is also an opportunity for some of us to pay them tributes as live, rather than dead heroes".
During the interactions with the icons, series of issues relating to both the positive and negative effects of English Language on the nation's development were brought to fore. Of great concern was the established fear that the acceptance of English Language as a major language of instruction in school, a language of politics and power, economy, social, and religion, would eventually kill the Nigerian indigenous languages, especially the three main languages: Yoruba, Hausa and Igbo.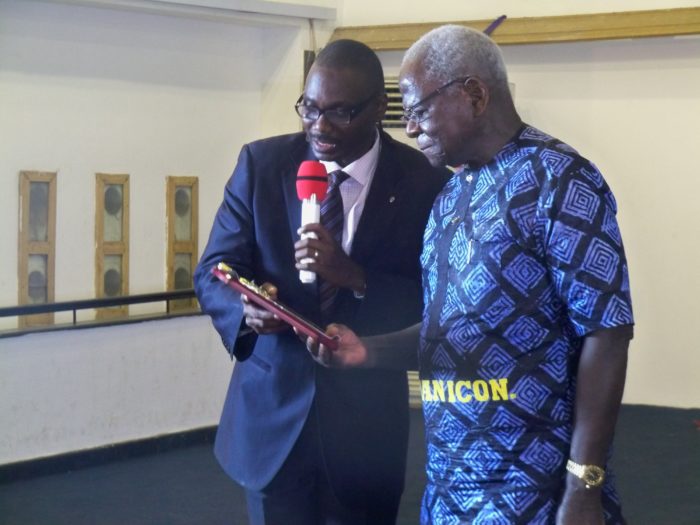 An important aspect of the occasion was the consensus that Nigeria languages are threading the part of extinction as Jowitt simply put it, "Some languages in Nigeria are threatened". Jowitt who is from the United Kingdom, UK, and currently teaching English Language at the University of Jos, said further, "English is a killer of languages and it is threatening other languages. Most of us want to see the threatened languages survive but I doubt if it is going to be possible. The young Nigerians are no longer competent in their languages".
Jowitt further stressed that it is inevitable that all the Nigerian languages will go into extinction adding, "In the next generation, these languages will disappear. We can save them from going into extinction. As a person, I will want to save many languages from extinction because it is God's gift just like wildlife animals and we should preserve the beauty of God by preserving His gifts including languages".
The four language experts called on the Federal Government to immediately implement and enforce the Federal Government National Policy on Education which states that in primary School, which lasts six years, each child must study two languages, namely: his mother-tongue (if available for study) or an indigenous language of wider communication in his area of domicile, and English language as well as adopting the Ife Six-Year Primary Project that states that indigenous Nigerian language should be used as a medium of instruction in primary schools.
They affirmed that without drastic steps taken to preserve the nation's languages, in the next hundred years, Nigerian languages including the three major languages, Yoruba, Hausa and Igbo, would go into extinction. Dispelling the widespread notion that raising Nigerian children in English Language would make them competent in the use of the language, Bamgbose said, "It is a myth that children raised in English Language will do better in English Language. What I see which is very painful is that I see parents who are not literate speaking English to their children. The fact that your children speak English early does not say he will be better in English. I strongly advice that our languages be used to teach in primary schools."
Also, Jubril advocated for the adoption of Ife project saying that students learn better in local languages than foreign languages. He painted a gory picture when he said, "I have eight grandchildren and I can't talk to two of them in Hausa. In Nigeria, Igbo Language will be extinct first, followed by Yoruba and followed by Hausa. Igbo is least attach to their language. English is waiting to swallow them all. It will happen about 100 years time if something drastic is not done. Nigerians are their worst enemy. If an election is conducted as to whether to teach and speak to our children in school with our local languages, 90 percent will vote for teaching and speaking in English Language".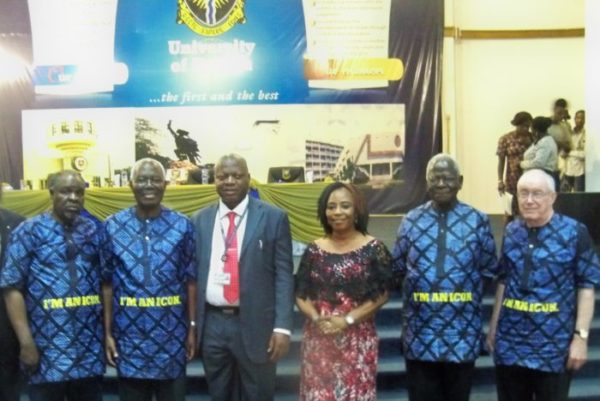 Bamgbose equally dispelled the notion that local languages are limited when it comes to teaching, especially sciences, saying, "It is a wide spread notion that our mother tongue is not capable of expressing views, that we can't use Yoruba to teach sciences. If we have strong political will to codify our languages, we can use our languages to teach sciences."
The icons agreed that Nigeria would be better off if at least the main languages in Nigeria are equally placed with English Language so as to make Nigerians at least, bilingual rather than monolingual.
Other issues discussed are deterioration in English Language and common errors in Nigerian English. Warning against these two phenomenons, they urged that the nation should aspire to be as competent as the owner of the language and not promoting mediocrity in English Language. Bangbose added, "It is found out that people do not associate with those who even speak good English. When English Language gets to Nigeria, it will change its colour and you will find out that the English is not the one brought to Nigeria. It is ironical that those who know the errors even continue to speak the error. If we must talk about Nigerian English, we need to look at educated Nigerian English speakers and formalize their spoken English as standard.
On the advocacy for Nigerian variety of English, Jowitt added, "I think there is a danger in codifying errors as Nigerian English. It will create gap between Nigerian English and standard English. If we localize English too much, the danger that will be inevitable is that when a Nigeria representative travels abroad to represent the country, when he speaks there, he might need a translator". They all advocated for proper teaching of English Language by competent teachers in schools.

Load more