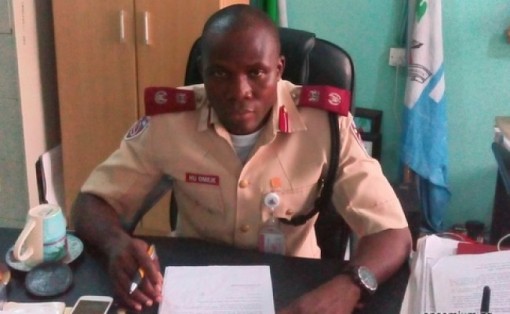 Mr Hyginus Omeje, Sector Commander, Federal Road Safety Corps (FRSC) Lagos state Command, said he was nearly killed by a commercial driver who faced him with vehicle in an attempt to crush him.
Omeje told the News Agency of Nigeria (NAN) on Thursday that the incident happened when he tried to arrest an over-loaded bus on Tuesday on Costain area of Lagos.
"I sighted the commercial bus along Eko Bridge, seriously overloaded with goods and passengers.
"The loading was so hazardous that I could not over look it.
''We took the picture and I decided to drive down Costain where I know it will be safe for him to stop without causing obstructions or endangering life.
"When I came down with my orderly, I flagged the driver down for him to stop, he refused, rather, he faced me with the vehicle in attempt to run me down.I was nearly killed by the driver.
"The situation later resorted to dangerous driving in Zig-Zag manner, it was then I called the Rapid Respond Squad (RRS) to join us in following him,'' he said.
The sector commander said it took the combine efforts of two teams of Rapid Response Squad (RRS) along Nigerian Brewery and Orile area of the state before they could stop the driver.
He further said the combine team, after stopping the driver, requested for his driver's license and vehicle particulars which he refused to produce.
Omeje said that the case had been transferred to Iponri Police Station for investigation and prosecution.

Load more