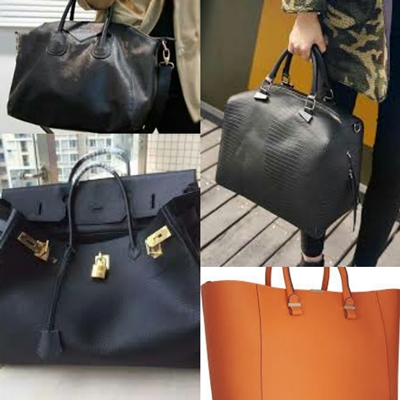 Some women in the Federal Capital Territory (FCT) say their fascination for big handbags was for fashion and convenience.
The women who spoke in separate interviews on Thursday in Abuja said their dressing was incomplete without such bags.
Miss Anita Ekeh, a make-up artist said large bags were fashionable and also could accommodate all the necessary things she needed to do her work.
"I carry my tote or large bags because it is convenient for me and can contain my make-up kit, not just because it is fashionable.
"I don't have to pay rent for office space for my makeup kit or fear that it will be stolen because it is always with me anytime and anywhere I need it".
"My bag is just like my office space," Ekeh said.
Similarly, Mrs Aisha Musa, a civil servant said large bags enable her to carry all the things she might need, without necessarily having to return home or to her car, whenever she needed them.
"My handbag is my mini-house because it contains a lot of things like my makeup bag, wallet, snacks, sanitary pad, notepad or book, laptop or iPad, phone, charger and even reading materials, in case I get bored.
"It means that I can do a variety of things at any given time without necessarily running back home, or to my car or my office to retrieve whatever I need," Musa said.
However, Mrs Juliana Timothy, a mother of four said she carried large bags to enable her store up souvenirs and other gifts at occasions.
"I prefer to use large bags, especially when going for a function because it can contain the souvenirs and other things that I will get at ceremonies," Timothy said.
Meanwhile, Dr Idi Martins, general medical practitioner based in Abuja, has warned that carrying of heavy bags, especially by women and school children could cause permanent health problems.
According to Martins, the effect of carrying heavy bags could result in muscle injuries and other health complications that could be life threatening.
"Women and school children need to be cautious when carrying loads, especially heavy handbags or school bags.
"Heavy bags could result in injuries to the muscles, connecting tissues and the spine.
"It could also result in rupture or tear in the abdominal cavity and injuries to the neck, back, hand, hips, knees and other parts of the body."
Martins advised women to carry only necessary things in their handbags to avoid any health complications that could affect their health.
The medical expert also advised parents to monitor the content of their children's school bags and urged school authorities to provide lockers for students to enable them to store some of their books in.
"Parents should check the content of their children's bags regularly to prevent them from carrying unnecessary load.
"Also, schools need to provide lockers to reduce the load weight of books that students need to carry every day," he said.