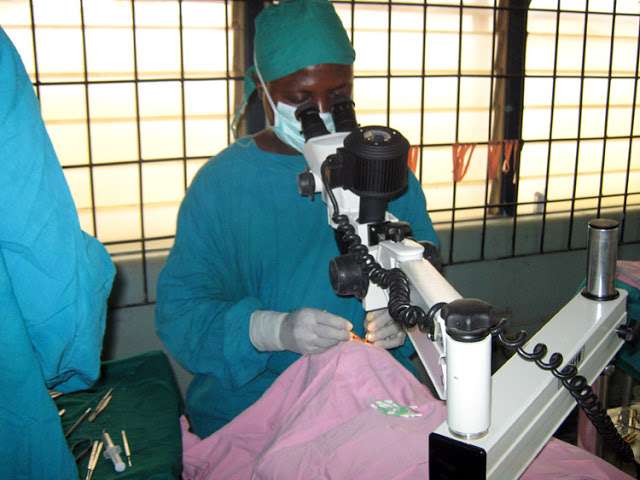 A free eye treatment sponsored by Sen. Abu Ibrahim (APC Katsina-South), targeting no fewer than 3,000 people in the 11 local government areas of his constituency has commenced in Funtua on Thursday.
The other local government areas covered by the exercise are Faskari, Kankara, Kafur, Dandume, Sabuwa, Malumfashi, Musawa, Bakori, Danja and Matazu.
Alhaji Salisu Fa'ida, the senator's contact person in the area, said the beneficiaries cut across all categories of people drawn from all the political wards.
Fa'ida said the exercise was part of the senator's welfare programmes aimed at uplifting the well-being of the people.
He said the programme include giving required medications, eye glasses and surgeries after consultations with the doctors.
"Many of the beneficiaries could not afford such treatment or operations due to financial constraints.
"We engage qualified doctors for the exercise going round the 11 local government areas and surgeries would be conducted in Funtua and Malumfashi General Hospitals, respectively,'' Fa'ida said.
He added that the treatment would be conducted annually and restated the lawmaker's commitment to introduce more welfare programmes.
According to him, Ibrahim also provides water pumping machines to irrigation farmers, drill wells, distributed farming inputs, sponsor skills acquisition training, disbursed scholarships and provide empowerment funds to people in the area.
At the Funtua treatment centre, Dr Kabir Muhammad, the team leader from Vision Savers Eye Care Center, said beneficiaries were being treated for cataract, allergy reactions, glaucoma and conjunctivitis.
Muhammad said women and children were being given priority and commended the senator for sponsoring the exercise.
He said the initial target of 3,000 persons in all the local governments had been surpassed as more people trooped to the centres.
The doctor underscored the importance of eye care and regular medical checkups to prevent eye challenges.
He appealed to public-spirited individuals and organisations to always remember people at the grassroots in terms of provision of free healthcare.
The Acting Chairman of Funtua Local Government Council, Alhaji Abdullahi Kutawa, who was represented by the council's Information Officer, Alhaji Aliyu Musa-Yankara, lauded the senator for his commitment to the welfare of the people.
Kutawa urged beneficiaries to adhere strictly to stipulated medications and cautioned them against patronising quacks for treatment, saying that eye is important to human life.
Some of the beneficiaries, Hajiya Tarasulu Hayatu and Maiunguwa Abdu Hayindakaki, also commended the lawmaker for the gesture.
They said that he had saved many of them from going blind as they could not afford the cost of surgery, medical glasses and other expenses.

Load more