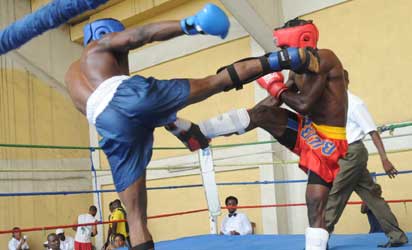 Adegboyega Adeniji-Adele, Technical Director, Lagos State Kickboxing Association (LSKA) on Thursday solicited support from corporate organisations toward its forthcoming build-up trials in April.
Adeniji-Adele in Lagos said that the championships, aimed at selecting athletes for major competitions, would hold at the old Boxing Gym, National Stadium, Lagos.
"The association is keen on keeping its athletes active by using the championships to assess their current form.
"It is open for every weight class in the male and female categories; being a grassroots event, no cash prize is attached.
"But we are soliciting for support in form of stationery, food, and beverage from corporate organisations to offer the participants,'' Adeniji-Adele said.
He said that rather than invite athletes to represent Lagos State based on their past glory, the association had declared the forthcoming championships open, giving athletes the opportunity to prove their worth.
The official said that the championships would also be used to identify promising athletes for major national championships, such as the National Sports Festival.
"The idea is to eradicate automatic shirt, and create an environment for upcoming athletes to prove their capabilities, and we expect schools from various districts across the state.
"We are aware that athletes are training in their various districts, but this competition will be an avenue to ascertain their technical application, in relation to current trend.''
According to him, the body is yet to decide on a date in April, as it is waiting for schools to vacate for the Easter break before taking a decision.
He said the choice of Easter break was to allow for massive turn out, to enable athletes in schools to feature in the trials.

Load more