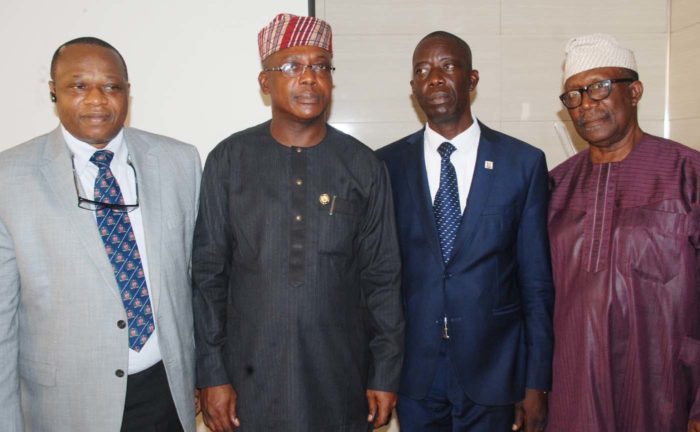 By Kazeem Ugbodaga
Lagos State Government has underscored the need for team work and work place synergy for the attainment of a corporate goal and realization of government's vision.
The Commissioner for Establishments, Training and Pensions, Dr. Akintola Benson-Oke made this known at the opening session of 2-day training programme  tagged: "Leadership Successes Through Synergy: Maximizing Performance In Public Sector Management" organized by the Ministry for some senior government officials in Ikeja.
He said that the training represented the commitment of Governor Akinwunmi Ambode to fully assist the Lagos State Civil Service to appreciate the attainment of strategic objectives of government and the effectiveness of institutions of the Lagos State Civil Service.
'This training programme is designed to run across all the MDAs of the State Government concurrently such that all the sectors of government would feel the impact of the exercise and ultimately make the goals of government realizable across board.' Dr. Akintola reiterated.
While stating that the training exercise was the 18th edition since the beginning of the year, the commissioner disclosed that the various training exercise embarked upon by the present administration since inception had positively impacted in the overall output of the staff.
'If you go across all the Ministries, Departments and Agencies, you would see that all the staff are happy with this government. Staff have been showing commitment for more work because they have been motivated for optimal performance and the performance has resulted in efficient service delivery and productivity.' the commissioner stated.
He expressed the belief that participants at the end of the training would appreciate the value of synergy and teamwork for maximum organizational performance as against the belief that synergizing leads to low self esteem or means that an individual's idea is inferior to the ideas of others.
The Director of Training in the Ministry, Mr. Aruna Ayodeji said that the state government apart from building visible infrastructure, also placed premium on its officials who were also key drivers of the visible infrastructure.
Reiterating the popular saying that 'to whom much is given, much is also expected, the Director, charged participants to use the training to influence other staff 'upward, downward and sideways.'