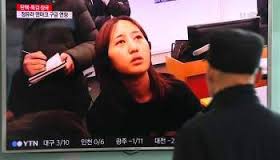 Danish authorities on Friday said they are prepared to extradite Chung Yoo Ra, a woman embroiled in the influence-peddling political scandal that led to the impeachment of South Korea's president.
Mohammad Ahsan, deputy director with the Office of the Public Prosecutions, told newsmen " having reviewed the South Korean request for extradition thoroughly, it is our opinion that all conditions for extradition in the Danish Extradition Act are met".
Chung was arrested in early January in Aalborg, western Denmark, and has been been in detention since then.
Her current detention order is set to expire next week.
"She has three days to decide whether to appeal the extradition,'' the statement said.
Chung is the daughter of Choi Soon Sil, the confidante of ousted president Park Geun Hye. Choi stands accused of meddling in South Korean state affairs.
Report says Chung, 21, is suspected of receiving favours from a Seoul-based university by taking advantage of her mother's connection to the president.

Load more