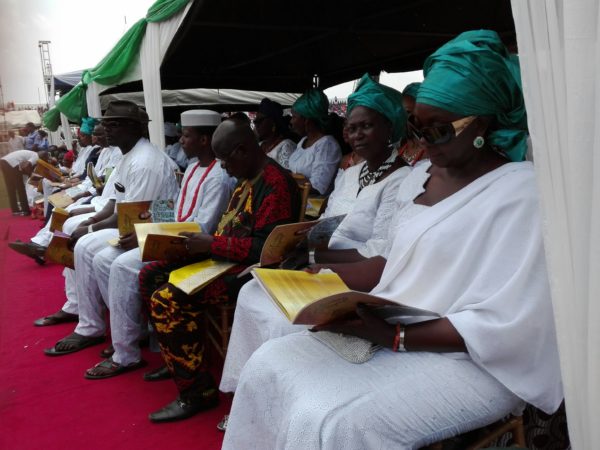 Jethro Ibileke/Benin
It was a gathering of all classes of people on Friday in Benin, Edo State as the former Governor of the defunct Bendel state, retired Brigadier-General Samuel Osaigbovo Ogbemudia, was laid to rest in Benin.
The Samuel Ogbemudia stadium-venue of the interdenominational service held in his honor was filled to capacity with men from all walks of life.
Top dignitaries at the ceremony included former Head of State, General Yakubu Gowon (retd), Edo state governor, Godwin Obaseki, his deputy, Philip Shaibu, former governors of Edo and Delta states; Chief John Oyegun, Lucky Igbinedion, Comrade Adams Oshiomhole, Emmanuel Uduaghan, Speaker of Edo state house of Assembly, Justin Okonobo.
Others were Minister of state for Health, Dr. Osagie Ehanire, former Minister of Foreign Affairs, Chief Tom Ikimi, Senators Shola Adeyeye, Francis Alimekhena and Matthew Uroghide. Former deputy governors, Peter Obadan, Lucky Imasuen and Pius Odubu and his wife, Chief of Staff to Obaseki, Taiwo Akerele, Elder statesman, Chief Edwin Clark and the state chairman of All Progressives Congress Edo State, Anselm Ojezua.
Also present were Speaker, Delta State House of Assembly, Monday Igbuya, Deputy Governor of Delta state, Kingsley Otuaro, former Speaker, Edo State House of Assembly, Zakawanu Garuba, his successor, Bright Omokhodion, retired Justice of Supreme Court, Justice Samson Uwaifo, Ayiri Emami, palace chiefs and thousands of students and the clergy.
Speaking on the title: 'The Man and his works,' in his homily, Bishop Oyenude Kure of the Evidence of the Gospel Church, described Ogbemudia as a man who impacted on Edo state. "You impacted on Bendel State, you impacted on Midwest State, you impacted on our Nation, your works cannot be dwarfed, not even by your most formidable enemy and you will be remembered for your good works. Ogbemudia is a lover of his people. He was a phenomenon, an icon, a colossus, an enigma."
The state governor, Godwin Obaseki urged the people not to forget the family of Ogbemudia as he pledged continuous government support for the family.
He commended the management of the University of Benin Teaching Hospital (UBTH) where Ogbemudia was first taken for the care given him before he was transferred to the Lagoon Hospital, Lagos where he died.
In his eulogy, Gowon described Ogbemudia as his friend and brother. "Between 1967 when he was appointed as Governor of then Midwest Region by my government and 1975 when we were both sent out of office alongside our other colleagues, Sam exhibited good leadership qualities. He did well in office and his legacies still speak well for him today in whatever area of life that he touched; sports, culture, agriculture, transportation, industry, just name it. The old Midwest and old Bendel State bore his imprint of service; little wonder several major landmarks bear his name including this stadium. In word and indeed, he exemplified the concept of exemplary service to the people in my government. He was also one of the most vilified.
"Sam contributed to the process of my settling down in the UK after the overthrow of my government. Without a home to call my own, I was rescued by my late friend, Emmanuel Oti who gave me his London house to live without paying rent for about two years. Oti and Sam went further to buy several items furnishing for the house. They comforted me when it mattered. Old soldier never die. Sam Ogbemudia has just moved to another barracks."
The governor of Delta State, Senator Ifeanyi Okowa who was represented by his deputy, Kingsley Otauro, said history would remember Ogbemudia for the courageous role he played to preserve the unity of the country during the political crisis of 1966 that culminated in the civil war of 1967 to 1970.
"But it is the military governor of the defunct Midwest state, Dr Ogbemudia shot into national acclaim with his towering achievements. Under him, Midwest, later renamed Bendel became the model for other states to follow.
"He was truly an officer and a gentleman; he leaves behind an endearing legacy of good governance and selfless leadership that continue to inspire the generation after him."
Speaking on behalf of former governors of the states, National Chairman of the APC, Chief John Odigie-Oyegun said he was a proud civil servant because Ogbemudia was governor of Bendel state and that when it was time to choose a slogan for Edo state, it was not difficult to make Edo the "heartbeat of the nation" because of what Ogbemudia had done.
"For those of you who travel, because of what he has done, you will find a replica of the Ogbemudia stadium in several places, you will find a replica of the Nigerian Observer building in many places. I was a very proud civil servant at the time because Ogbemudia was governor of Bendel state.

Load more