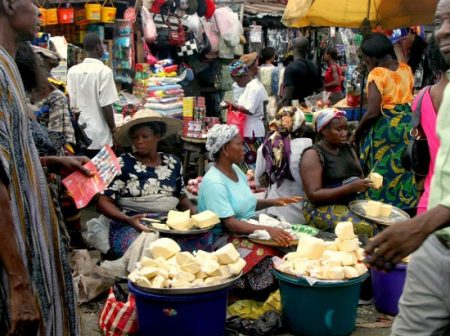 Prices of local varieties of rice and other foods have shot up in Hadejia, Jigawa, in the last six months.
A check at Malammadori Grain Market, revealed that the price of rice had significantly increased, amid growing demand for the product.
A 100 kg bag of locally-produced rice was being sold for N31, 200 and N28, 800, as against its old prices of N29, 000 and N26, 000 respectively.
A measure of the commodity was sold between N720 and N780, depending on its quality, as against the old prices of N650 and N700 respectively.
Traders at the market attributed the hike to the growing demand for rice.
Price of beans also showed similar increase as a bag was being sold at N20, 000. and N24,000.
Others foods like: millet and sorghum were sold at N15, 500 and N14, 000 per bag as against N14, 600 and N13, 000 respectively.
Benny seed, a popular cash crop, was traded at N31, 000 as against its old price of N27, 000.
The prices of tomatoes and other perishable foods had, however, crashed, following improved supply from the farms, indicating a relief from the high prices in the past few months.
The price of a basket of tomato, however, crashed to N3, 200 and N6, 000 as against N35, 000 it traded some months' back.
Malam Musa Dantalle, a grain dealer, said that prices were moving up on daily basis because of the increasing demand for the commodities.
Dantalle attributed the situation to a drop in the quantity of rice being supplied to the market from farms.
"We are witnessing price increase on daily basis due to the increase in the demand for the local variety of rice,'' he said.
He expressed the hope that prices would further go down when supply improved.
Mr Kabiru Yaqub, described the situation as worrisome, saying that rice was beyond the reach of the ordinary man.
Yaqub, who said he preferred rice, however, decried the high cost of the commodity.
He said that this had become a source of concern to the consumers.
Yaqub called on government to adopt practical measures to control inflation and regulate commodity prices in the country.