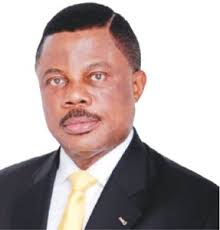 The Anambra State Government has provided N2 billion loan to small businesses in the past two years.
Mr Tony Nnacheta, the state Commissioner for Information, Mr Nnacheta made this known to newsmen during tour of some facilities as part of the three years anniversary of Gov. Willie Obiano.
He said this was done through the Anambra State Small Business Agency (ASBA), providing funds for artisans and small businesses.
He said ASBA was working with various cooperative societies in the area of trade, artisans and even farmers at reduced interest rates.
"That is why we are not so much aware of the recession in the country. ASBA gives loan at nine per cent, the lowest you can get and over N2 billion has been provided for them since this agency came on board two years ago", he said.
Permanent Secretary, Ministry of Agriculture, Mr Leo Imoka, said the state had been able to set up an electronic directory of all the farmers in the state for easy distribution of inputs and effective output management.
Imoka said there were no fewer than 101,000 registered farmers in 2464 cooperatives in the state.
He said the gender distribution indicated that 56.6 per cent of the farmers where females whole 43.6 per cent were males, adding that ages 41 to 60 made up over 70 per of farmers in the state.
Mr Emeka Okoli, Director of Technical Services in the Anambra Ministry of Agriculture, said the state was now producing cucumber, onions, green pepper, and sweet maize in commercial quantity.
He said the government had provided technical and marketing support for vegetable farmers which made it one of the best rated in the world.
He said the state was emphasising organic farming.
"We have so many destinations, Europe, China and across the country, weekly, 60 tons of vegetables are moved within and outside the state.
"Thirty metric tonnes go to China, 20 metric tons go to Europe on monthly basis and 25 tons are moved to Aba, Abuja, Port Harcourt and Lagos by local off takers", he said.
Some of the sites visited included the 1000 lockup shops under construction at Nkwelle Ezunaka junction, 280 meters Omambala river and the Iyiowa bridges under construction.

Load more