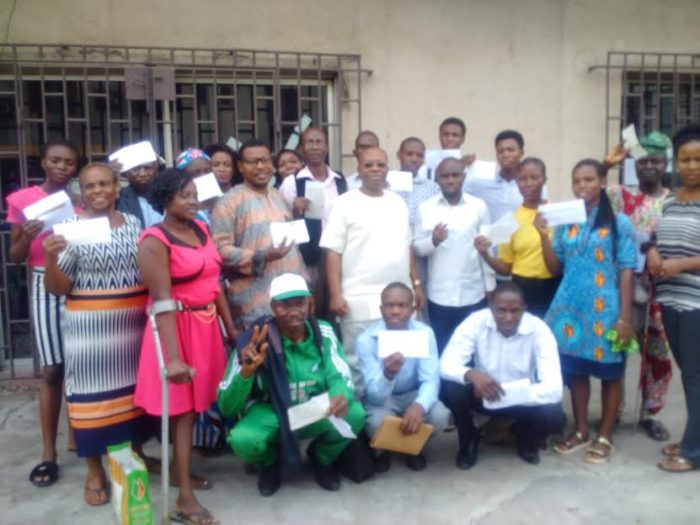 In keeping with its mandate of helping the poor, the Onyekachi Ubani Foundation, OUF on Friday empowered 27 start-up businesses and students with financial aids.
While 17 persons were provided with finance to kick start their business ideas, 10 students were give cash to purchase the upcoming Universal Tertiary Matriculation Examination, UTME.
The successful business enterprenuers who were selected from a poll of over 100 applicants were each given N35,000 seed money to start their new business ideas.
Among those selected are widows, poor students, physically challenged people and other indigent Nigerians.
Speaking during the formal presentation of cheque and cash to the 27 beneficiaries, Founder of OUF, Mr Monday Ubani said he was happy that his foundation has ones again been able to fulfil it's obligation to the needy.
Admonishing the beneficiaries to use the money specifically for their new business, Ubani said his foundation will continue to play it's role in empowering people with the limited resource within it reach.
" I congratulate you for being among the privileged few to recieve this seed money for your businesses. I pray for you that as you put it into your business, you will become financially empowered and become an asset to your family and the nation.
" I know that you may have other financial needs but please endeavor to use this seed money for your businesses so that in the near future you too will able to empower other people," he said.
Speaking on behalf of the beneficiaries, a widow, Mrs Veronica Agbasonu thanked Ubani Foundation for providing fund for them at a time when banks and financial institutions are closing their doors to people with business ideas.
She assured the foundation that the money given to all the beneficiaries will be put to good use.
Onyekachi Ubani Foundation has been in forefront of philanthropic deeds towards the poor and indigent in Nigeria for over a decade now.
In 2013, the foundation saved the life of a baby (Somaya) that had a hole in her heart and thereafter attracted the sum of N10,000,000 from the MTN Foundation for the baby.
The foundation had also donated cash materials and drugs to Ikorodu flood victims in Lagos worth over N1,000,000 some years ago and also raised 10% of 12 million Naira for the good Nigerian Lady that returned a lost N12 million to its owner.
Ubani announced that the next empowerment programme will take place next quarter during his birthday celebration.

Load more