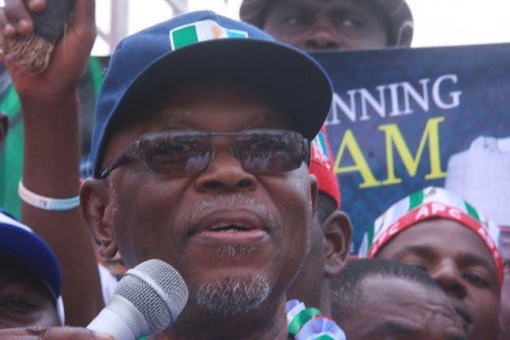 The National Chairman, All Progressives Congress (APC), Chief John Odigie-Oyegun has called on the Federal Government to immortalise the late Dr Samuel Ogbemudia just as the Edo and Delta governments had done.
Odigie-Oyegun also extolled the virtues of the late Military Governor of defunct Mid-West Region.
The APC chairman made the commendation while speaking with newsmen at the residence of the deceased in Benin on Saturday.
Odigie-Oyegun said Ogbemudia was so much loved that some civil servants contributed to his campaign toward becoming governor of the former Bendel State (now Edo and Delta) in 1983.
"It was a beautiful experience when I first met him; I was still relatively young and he was one of the inspirational forces at that time.
''He made us very proud to be Mid-Westerners or to be citizens of Bendel State and now of Edo State.
''He was an inspiring force; even as civil servants, we contributed to his campaign to be governor of Bendel State.
''He was a man of great achievement, great knowledge and great influence in the Nigerian polity.
''We maintained a relationship right to the very end even though we belonged to different political parties and of course technically, he was my predecessor in office.
''He was somebody we tried to emulate, whose achievements we tried to equal but unfortunately one wasn't there long enough to make that same kind of impact.
''He was an inspirational figure who has left indelible footprints on the Nigerian political environment,'' the APC chieftain said.
On his part, Mr. Samson Osagie, a former Chief Whip of the House of Representatives, described the late governor as a colossus and prayed God to create more people like him in the state.
According to him, Dr Ogbemudia was a great colossus, he was a quintessential leader.
He said, ''I just asked a question, who do we think now in the political firmament, particularly in Edo State, that can fit into his shoes and you cannot immediately think of any man.
''So, we have lost a rare gem.
''We have lost a leader and my prayer has been since his demise that more Ogbemudias should be raised by God to be able to fill this vacuum.
''I believe that Ogbemudia's legacies, more than 30 years after he left are a clear demonstration of his God-given mission on earth which nobody can erase even while he has left the world.
''I believe that the state government has done well for the honour they have given him and his family.''
The two-time governor of the defunct Bendel State died on March 9 at 84 years of age, and was buried in his country home in Benin on March 17.

Load more