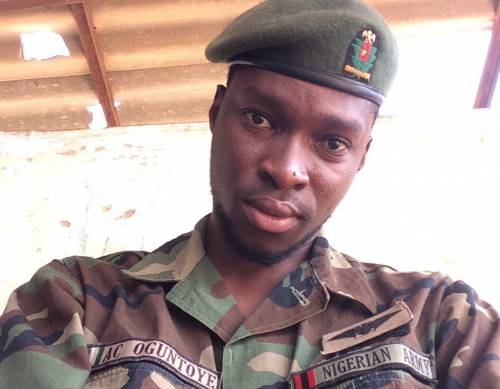 The Nigerian Army has confirmed that an officer and three soldiers were killed in a clash with Boko Haram terrorists in Borno State on Wednesday.
According to the army spokesman, Brigadier General Sani Usman, troops attached to Operation Lafiya Dole were on the trail of a band of terrorists in Doho, Mina, Maideni, Donari, Salari and Lawari villages in the northern part of the state when the incident happened late Wednesday.
The extremists, according to Usman, had attempted to infiltrate Magumeri village.
They were however repelled by soldiers who gave them a chase.
He said that after a hot chase and mop up, the troops were able to neutralise an unconfirmed number of Boko Haram terrorists.
They also recovered one gun truck, two anti-aircraft guns, two extra barrels, two rocket propelled grenade bombs, 31 pieces of Nitrogen 57mm bombs, one roll of Nitrogen cable and a 60mm mortar bomb.
Others are: assorted General Purpose Machine Gun and anti-aircraft ammunition and their links, three spare vehicle tyres with rims, one vulcanizing machine, one Qlink motorcycle, foodstuff and three Boko Haram terrorist sown camouflage.
Besides, troops of the 22 Brigade of the army, have cleared Boko Haram terrorists out of Gujari village, Mafa Local Government Area of Borno State. This followed information about the convergence of the extremists in the area preparatory to launching attacks on nearby communities.
The army spokesman said that during the operation, the troops killed two Boko Haram terrorists while an unspecified number escaped with gunshot wounds into the forest.
At the location, the troops discovered and destroyed a tailoring shed and recovered one Rocket Propelled Grenade Bomb, three Dane guns, one double barrel pump action guns, two bandoliers, 23 empty cases of Shilka gun ammunition, two initiation water container and one motorcycle battery among other items.
Similarly, soldiers fighting Boko Haram insurgents in Borno State arrested a deaf and dumb suspected member of the terror sect.
Recovered from the man were eight functional mobile handsets, a bunch of keys, two passport photographs, two amulet charms and a transistor radio.
But the suspect's name could not be immediately ascertained because of his disability.
Usman said no fewer than nine members of the sect willingly surrendered to soldiers of Operation Lafiya Dole deployed along Dikwa-Gulumba Gana road in northern Borno after claiming to get tired of life under Boko Haram.
The former terrorists who came from Tambashe Village in Dikwa Local Government Area of Borno state are currently been held and interrogated by the army to determine the veracity of their claim.
Usman said the armed forces are continuing with clearance operations in suspected Boko Haram locations through patrols, ambushes and raids with appreciable progress.
Such raids, he said, led to the arrest of one Mallam Makinta Ibrahim, 45, at Bayemari, by troops of the 159 Task Force Battalion.
The suspect who hailed from Yaro Grematalti Yunusari Local Government Area is believed to be a Premium Motor Spirit (PMS) dealer to the terrorists.

Load more