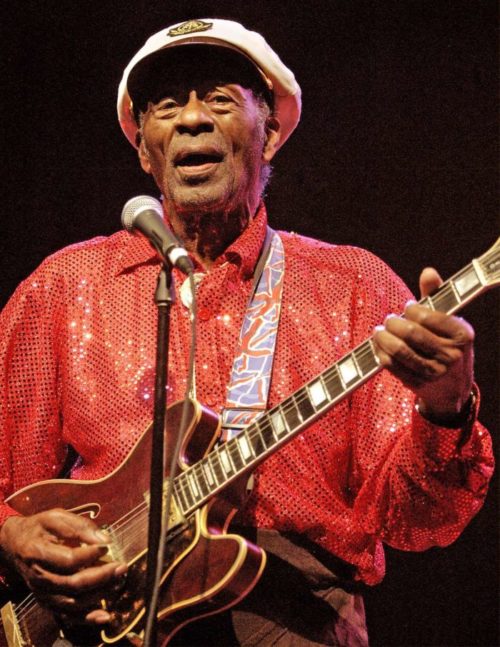 Legendary musician Chuck Berry has died, police confirm. He was 90.
The St. Charles County Police Department in Missouri confirmed on Facebook that they responded to a medical emergency on Saturday afternoon where they found an unresponsive man.
"St. Charles County police responded to a medical emergency on Buckner Road at approximately 12:40 p.m. today (Saturday, March 18)," the police department said in a statement. "Inside the home, first responders observed an unresponsive man and immediately administered lifesaving techniques. Unfortunately, the 90-year-old man could not be revived and was pronounced deceased at 1:26 p.m.
"The St. Charles County Police Department sadly confirms the death of Charles Edward Anderson Berry Sr., better known as legendary musician Chuck Berry."
"The family requests privacy during this time of bereavement."
Revolutionary blues singer Chuck Berry, often referred to as the "poet laureate" and "father" of rock 'n' roll, died Saturday.
One of the first inductees into the Rock and Roll Hall of Fame, Berry wove together beguiling narratives, fusing rhythm and blues with country and western — and transfixing the nation.
In 2000, President Bill Clinton called Berry "one of the 20th Century's most influential musicians."
Known for chart-toppers such as "Johnny B Goode," "Roll Over Beethoven" and "Brown Eyed Handsome Man," Berry's career rocketed in the 1950s after signing a record deal with Chess Records at the behest of musician Muddy Waters, according to Rolling Stone.
His first hit, "Maybellene," spent nine weeks in the No. 1 spot on the Billboard R&B chart and also rose to No. 5 on the pop charts. Berry reshaped the 1950s with a unique sound that appealed to both sides of a racially divided country.
"I made records for people who would buy them. No color, no ethnic, no political — I don't want that, never did," Berry told the New York Times in 2003.
Many of the biggest names in rock 'n' roll have cited Berry as an inspiration thanks to his earworm tunes.
According to Gibson.com, John Lennon said: "If you gave rock 'n' roll another name, it would be Chuck Berry."
Leonard Cohen believed, "all of us are footnotes to the words of Chuck Berry," while Bob Dylan dubbed him the "Shakespeare of rock 'n' roll," Peter Guralnick recalled in Rolling Stone in October 2016.
Berry's signature duck walk was adopted by the likes of admiring bands such as The Who and AC/DC.
Despite mesmerizing the country with his infectious hooks and rhythm, he was temporarily pulled from the spotlight in 1959 when he was arrested for violating the Mann Act by driving an underage girl across state lines from Texas to his native Missouri, according to Biography.com. He spent two years in federal prison.
As a teenager, Berry — born Charles Anderson Edward Berry to Martha and Henry Berry in St. Louis — was convicted of an armed robbery and spent 1944 to 1947 in reform school.
After his release, Berry worked an assembly line and studied cosmetology, before finding his place in American history with a guitar in his hands and a captain's hat on his head.
Later in life, Berry would serve another prison stint after running into trouble with the Internal Revenue Service, Rolling Stone reported.
But he would always return to the stage, even as he aged, playing shows into his mid-80s.
On his 90th birthday, Berry announced he was releasing his first LP in 38 years, slated to hit stores this year. He dedicated the album to his wife of 68 years, Themetta "Toddy" Berry, whom he is survived by
People, NBC

Load more