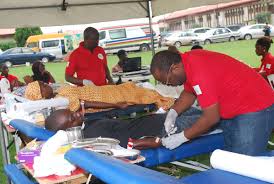 Dr Hannah Olawumi, a consultant haematologist at the University of Ilorin Teaching Hospital (UITH), Ilorin, has called on Nigerians to inculcate the habits of voluntary blood donation to save lives.
Olawumi made the call in a paper she presented on Saturday in Ilorin entitled: "Blood Donation Trend in Tertiary Hospitals in Nigeria".
The consultant haematologist, also a lecturer at the Department of Haematology and Blood Transfusion of University of Ilorin (UITH), said that voluntary blood donors were relatively few in Nigeria.
"Voluntary blood donation which gives the safest blood is not common in Nigeria and female donors are scarce.
"In Nigeria, family replacement and paid donors are major sources of blood donation, a situation which compromises blood safety," she said.
Olawumi said that blood donors, who ought to be the main source of blood donation, were relatively few because of certain misconceptions and taboos attached to it.
According to her, youths and students in the age bracket of 20 to 29 years are the most appropriate targets for intensive voluntary blood donation.
Olawumi said in a research that it was discovered that only 21,694 units of blood were donated during a period of five years study at the UITH.
She said that majority of the donors gave blood as family replacement donations, while voluntary donations constituted 2.2 per cent and autologous donations were 0.1 per cent.
The American Red Cross defines Autologous donations as "donations that individuals give for their own use, that is, before a surgery.''
Olawumi said that blood and blood products were essential therapeutic agents that have no alternative in medical emergencies.
The expert said she was optimistic that with increase education and awareness about blood donation and a more aggressive blood donation drive, more females might be ready to donate blood voluntarily.

Load more