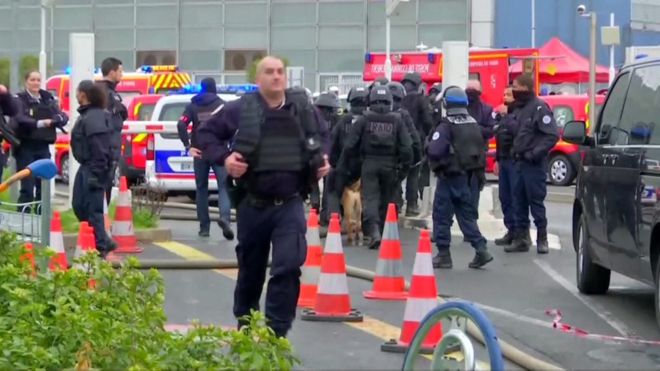 A man has been shot dead after grabbing a soldier's gun at Orly airport in Paris, French officials say.
He was killed by the security forces in a shop after seizing the weapon in the airport's southern terminal.
The airport has been shut down after what the authorities said was an extremely serious incident and passengers not allowed to disembark.
A security operation is continuing with bomb disposal experts involved and a search for any possible accomplices.
Orly – located 13km (8 miles) south of Paris – is the second largest Paris airport.
Police have warned people to stay away from the security cordon put in place.
Officials say the man approached a group of soldiers patrolling the airport and made off with the gun into a shop.
At that point shots were fired and the man was killed.
French Interior Minister Bruno Le Roux is on his way to the scene of the attack.
In an incident last month, a man wielding knives lunged at soldiers at Paris's Louvre museum before being shot and injured.
BBC

Load more