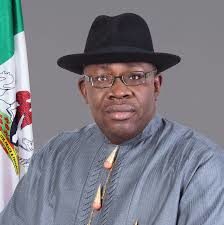 The Bayelsa State Government has directed the immediate release of the N1.3bn share of the Paris Club refund to its eight local governments for full payment of their workers' salaries.
The money, which is the first tranche of the refunds, was withheld pending staff verification to rid the councils of ghost workers.
NAN reports that President Muhammadu Buhari had, on Thursday, authorised the release of the second tranche of the refunds to states that complied with the terms which included disbursement of local government share.
Public servants in the local government system were placed on half salaries since May 2016, due to the paucity of funds, while their backlog of arrears ranged from six months to 12 months across the local government areas.
The amount, out of the N14.5bn received as the state share of the refund from the Federal Government, was disbursed to states in December 2016.
Gov. Seriake Dickson had explained to stakeholders, during an emergency meeting in Yenagoa, that the decision to withhold the councils' share was due to the discovery of fraud in their payroll.
The Bayelsa Commissioner for Local Government, Mr Aghata Goma, had confirmed the release of the fund on Friday and advised Local Government Chairmen in the state to deploy 50 percent of the money to pay full salary to workers.
"The governor has just approved the release of the local government share of the Paris Club loan refunds, and it will improve the resource base of the councils to meet their salary obligations to their workforce.
"It is important to note that the state government has authorised the release of the funds and we expect them to henceforth revert to the payment of full salaries as opposed to the half salaries they currently pay," Goma said.
Goma called on local governments to ensure that 50 percent of the fund was committed to staff salaries while a reasonable part of the fund should be expended on people-oriented projects.
The commissioner said the fund was part of the efforts aimed at implementing agreements reached with local government workers who called off their strike in February 2017.
She noted that regular payment of salaries was expected to sustain industrial harmony at the local government levels.
Goma also urged the unions to continue to maintain peace and impress on their members the need for re-dedication to the service of the state.
She said that the Caretaker Committee Chairmen in the councils had demonstrated a commitment to staff welfare, but the economic recession had negatively affected Federal Allocation Account Committee's disbursement to all tiers of government.
She also urged the union to support the council chairmen in their efforts to remove ghost workers and fraud.

Load more