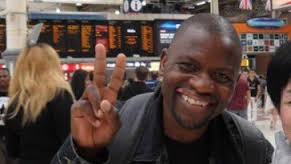 A boxer who was due to be deported by immigration officials has been found dead in a park in south London. Bhekitshe Moyo, 42, had been living in Britain for 15 years but was ordered to leave the country by the Home Office.
The former bank manager, who was described as a kind and intelligent man who would always put others' needs before his own, was reported missing last Monday.
His distraught family, who live in Zimbabwe, grew alarmed after noticing Mr Moyo had posted an unusual message onto his Facebook page ending with the words: "I have to sleep now. I love you all. Now be good to one another.
Police began searching areas near to Mr Moyo's home in Wallington, Sutton, and found his body near Mitcham Common. The skilled boxer is said to have competed in more than 50 professional matches and spent his spare time studying for a law degree, volunteering at local boxing clubs and teaching children the sport.
Family friend Thapelo Koboto, who is working to help return Mr Moyo's body to Zimbabwe, told the Standard: "He came here on a sports visa. "After he thought he had been here for a long time, he tried to apply for an indefinite leave to remain." .
But she said "everything changed" and he was taken to Brook House immigration centre. He was released from the immigration centre in November but the case for his deportation continued.
"It [the deportation] came as a disappointment as he thought he was doing the things the right way," Ms Koboto said.

Load more