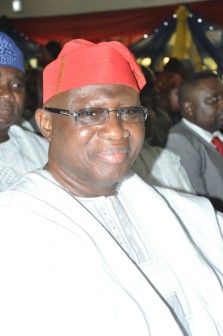 By Kazeem Ugbodaga
Lagos State Government has trained 540 fishermen from riverine area of the state on safe use, maintenance, practices and repairs of 4-Stroke Out Board (OBE).
The 18 day training programme held at 18 different locations had participants drawn across 27 predominantly riverine areas in the Local Government Areas and Local Council Development Areas of the State.
Commissioner for Local Government and Community Affairs, Muslim Folami said that the capacity building exercise was designed to improve agricultural economy and its importance to the present administration in the State.
 The commissioner, who was represented at the flag off ceremony, held at Amuwo-Odofin Local Government Secretariat, by the Director, Administrative and Human Resource, Mr Hakeem Adetoro, disclosed that the ban of 2-Stroke machine/equipment OBE by Federal Government because of its environmental implications necessitated the training exercise.
 'The empowerment and development of citizens at the grassroots -artisans, fishermen, farmers at the community level is very crucial to the sustainability of this administration's ideals, especially in the area of generating employment for the populace which will ultimately lead to increase in Internally Generated Revenue (IGR) of the Government'' he reiterated.
The commissioner added that the adoption of the recommended 4- Stroke OBE by fishermen was to improve their fishing skills as well as optimize their understanding of the servicing and maintenance of practices of the OBE for best usage.
 Sole Administrator, Amuwo Odofin Local Government Area, Nurudeen Bamidele, said that the training would improve the fishing skills of the fishermen, boost their self-reliance and sufficient in the new techniques of the 4- Stroke Engine and other sundry attached to fishing in commercial quantity.

Load more