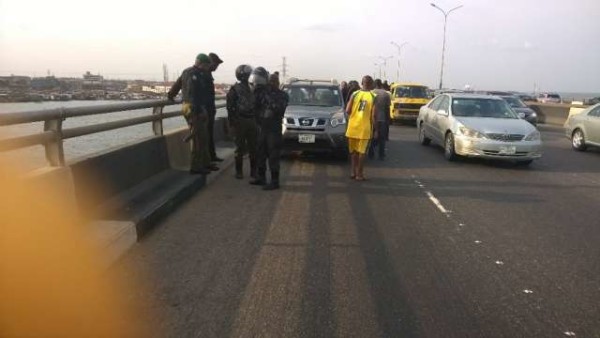 The Lagos State Emergency Management Agency has given a partial identification of the man who today abandoned his vehicle on the Third Mainland Bridge and jumped into the Lagos Lagoon, in certain suicide.
Spokesman of the Lagos State Emergency Management Agency (LASEMA), Kehinde Adebayo said the agency was alerted by concerned Nigerians. He identified the man as Orji. He did not give any other name.
Earlier reports had said the man was a medical doctor. Reports said he ordered the driver of his Nissan X-trail, LND 476 EE to stop on the bridge. Then he reportedly ran out and jumped into the water.
According to Adebayo: "The Agency received a distress call of a man who parked his grey coloured Nissan SUV with registration number LND 476 EE at about 4.50 pm today Sunday.
"The incident happened around Adekunle, inward 3rd Mainland bridge and jumped into the Lagos Lagoon.
"Preliminary investigation at the scene revealed that the man said to be a medical doctor named Orji who was said to be driven by his driver and suddenly ordered the driver to pull over.
"He dropped from the car and suddenly jumped into the water from the bridge. The vehicle and the driver have been taken to Adeniji Adele Police Station for further investigation.
"There are efforts to recover his body from the Lagoon," he said.
The spokesman said that the General Manager of LASEMA, Mr Adesina Tiamiyu has assured for a proper investigation into the incident by the appropriate authorities.