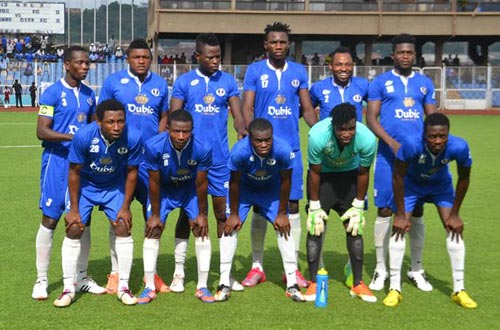 Enyimba International FC of Aba on Sunday in Ilorin shared points with Abubakar Bukola Saraki (ABS) of Ilorin to end the homers 100 per cent record.
The Match Day 14 Nigeria Professional Football League (NPFL) fixture ended 1-1 at the Kwara Stadium Complex, Ilorin.
Enyimba, the People's Elephant had never beaten ABS in Ilorin.
The Saraki Boys almost scored with just two minutes into the match when Chigozirim Metu skipped pass Ikouwem Udoh to find Mohammed Mohammed.
Mohammed stylishly fed Abubakar Chindo with a pass but Chindo's shot was blocked.
Two minutes later, Ibrahim Ahmed threw a long pass into the box for Mohammed but Enyimba right back, Dare Ojo was at alert as he dispossessed the lanky striker.
The Saraki Boys appealed for a penalty in the 33rd minute when Samson Gbadebo appeared to hack Chigozirim Metu from behind, but the centre referee awarded a goal kick.
Metu because of the bad tackle was substituted with Adeshina Gata who joined his brother Ismaila, who plays for Enyimba on the pitch.
The first half of the thrilling encounter ended goalless.
On resumption, Enyimba captain, Mfon Udoh, scored the visitor's goal within just a minute inside.
Udoh had received a pass from Joseph Osadiaye who dribbled pass Chinedu Ajanah before finding Udoh.
The goal by the visitors woke up the Saraki Boys from their slumber as they quickly raised their game.
They were the better side for most of the remainder of the proceedings.
Gata boosted ABS attack as he was always taking the ball to Enyimba defence, making the back line struggling with his pace.
The pressure paid off when Kester Kelly brought down Gata in the 82nd minute inside the box.
This time, the centre referee wasted no time in pointing to the penalty spot.
Stone Evbuomwan, who came in for Samuel Oyedeji in the 72nd minute, stepped forward and converted for ABS.
The Saraki Boys continued their attacks after the equaliser, but Enyimba stood like a rock till the end.
ABS FC defender, Ernest Governor, said it was hard luck that denied his team the maximum three points.
"We played very well but the goals were not just coming.We deserved the three points but that is the game of football for you," Governor said.
Coach Gbenga Ogunbote of Enyimba said it was good they drew the match, adding that his side was also unlucky.
"We had some careless moments. We will work hard to win the next game" Ogunbote said.