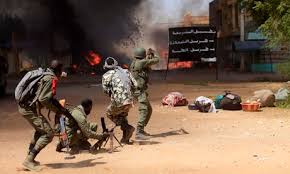 A don Jacob Chol on Monday warned East Africa to be alert to the escalating crises in South Sudan, which is fueling the influx of refugees and small arms that could destabilise the region.
Chol, head of political science department at Juba University, gave the warning in an interview with Xinhua.
He also warned neighbouring countries to brace for spillover of South Sudan conflict, hence the need for them to back peace building initiatives in the world's youngest nation.
"The entire East and Horn of Africa region should be wary of the spillover effect of South Sudan conflict. Already, refugees are flocking into these countries and cross border movement of illicit arms is at an all time high," said Chol.
He regretted that ideological differences among members of the Intergovernmental Authority on Development (IGAD), which has spearheaded efforts to end conflict in South Sudan, bode ill for regional stability.
"When you talk about international relations, the regional interests always vary.
"You may look at the East African Community (EAC) as committed to helping support South Sudan, but you may realise that within those countries there could be one or two that are sympathetic to the rebels," he said.
"And you may realise in the greater Horn of Africa that Eritrea and Ethiopia were not very clear on support for the government.
"Even Kenya was not forthcoming in its position," Chol said.
In the aftermath of the December 2013 conflict, some neighbouring countries with security interest were sucked in the fighting and reportedly backed different warring factions.
Since July last year, renewed fighting have spread to the once peaceful Equatorial region and according to the UN refugee agency UNHCR, the conflict since 2013 has forced 1.5 million South Sudanese to flee into neighboring countries.
And in late February, the UN declared famine in some parts of the country, especially in Mayendit and Leer counties of northern Unity state, with already 100,000 people starving and one million on the brink of starvation.
Chol added that countries like China and the U.S. should continue engaging the warring parties to end the fighting that has triggered a humanitarian crisis.
"China has come on board to help on mediation China will continue engaging at very high level ensuring that peace must come through home-grown efforts," he said.
"U.S. politics might change because they have a new government The old government was Democrat and you might have realised the sentiment among South Sudanese that the government of Democrats did not help them especially Barack Obama," he added.
The scholar however was skeptical on whether the Trump administration with his America-first policy will consider the South Sudan conflict a priority.
"It is unfortunate Trump is not coming as an Ideologue Republican. So you may argue that the Trump government may not necessarily help South Sudan but it may not patronise South Sudan compared to the Obama administration," said Chol.

Load more