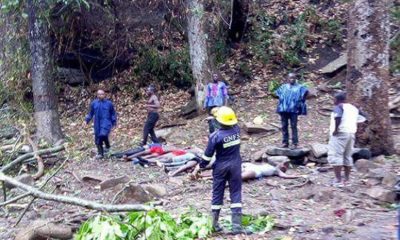 Ghana Fire Service on Monday said no fewer than 18 people were killed by a falling tree while swimming at a popular waterfall spot in southern Ghana.
Students from Wenchi Methodist Senior High School and the University of Energy and Natural Resources were on an excursion at the Kintampo Waterfalls in Brong Ahafo region on Sunday.
A further 20 people were being treated in hospital, Desmond Owusu Boampong, a local police commander, told newsmen.
"No fewer than 18 people were killed when a large tree fell into the pool they were bathing in at the base of a waterfall in Ghana.
"Sixteen of the fatalities were reported to be students, while a large number of people were injured,'' police said.
Ada Kumi from the fire service said the large tree was believed to have been brought down by strong winds.
"For now, the number that has been confirmed by the hospital is 18.
"We are yet to confirm reports that two more have died,'' Kumi said.