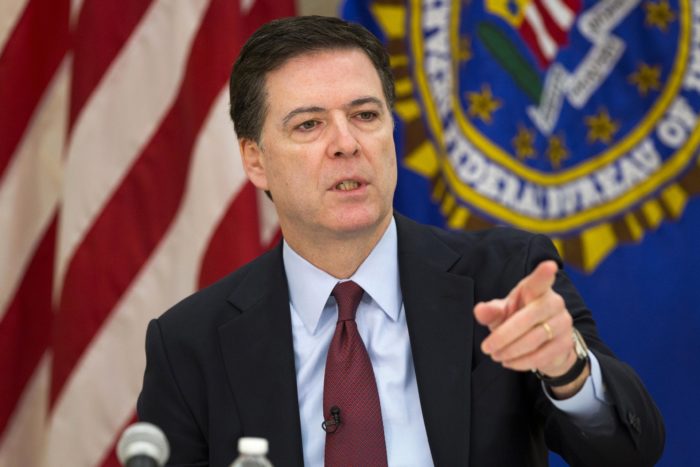 FBI Director James Comey on Monday confirmed the agency was investigating possible Russian government efforts to interfere in the 2016 U.S. election including any links between President Donald Trump's campaign and Moscow.
Comey told a congressional hearing on Russian activities that the probe "includes investigating the nature of any links between individuals associated with the Trump campaign and the Russian government and whether there was any coordination between the campaign and Russia's efforts."
"Because it is an open, ongoing investigation and is classified, I cannot say more about what we are doing and whose conduct we are examining," Comey said.
In a similar development, the chairman of the U.S. House of Representatives Intelligence Committee on Monday denied a claim from Trump that there had been a wiretap on his Trump Tower in New York, but said it was possible other surveillance was used against the Republican.
Republican Representative Devin Nunes also told a hearing that the committee had seen no evidence of collusion between Russia and Trump's 2016 presidential campaign.
Comey and NSA Director Admiral Mike Rogers testified to the committee about allegations that Russia meddled in the election.
Trump created a controversy in early March when he tweeted that former president Barack Obama had wiretapped Trump Tower.
Nunes opened the hearing by saying, "Let me be clear: We know there was not a wiretap on Trump Tower. "However, it's still possible that other surveillance activities were used against President Trump and his associates."
Other congressional committees also are investigating the possible Russian connection, mostly behind closed doors. Still, amid a furor over whether Moscow tried to influence the 2016 presidential race on Trump's behalf, lawmakers said they would make public as much of their investigations as possible.
Russia denies it attempted to influence the Nov. 8 presidential election by hacking Democratic operatives and releasing embarrassing information.
Attorney-General Jeff Sessions, a former senator, removed himself from any investigation related to the presidential campaign, after it was learned he did not fully reveal his contacts with Russian officials during the run-up to the election.
He failed to disclose that, as senator, he had met with Russia's ambassador to the United States, Sergei Kislyak.
Hours before the hearing, Trump tweeted that former Director of National Intelligence "James Clapper and others stated that there is no evidence Potus (president of the United States) colluded with Russia," and said Democrats were pushing the inquiry because the party's election losses.
Taking up an issue that Trump has frequently complained about, Nunes said numerous current and former U.S. officials had leaked potentially classified information, and that his committee intended to identify them to bring them to justice.
Trump has often railed against leaks to the media from inside his administration.
Comey confirms FBI probing alleged Russian interference in U.S. vote.

Load more