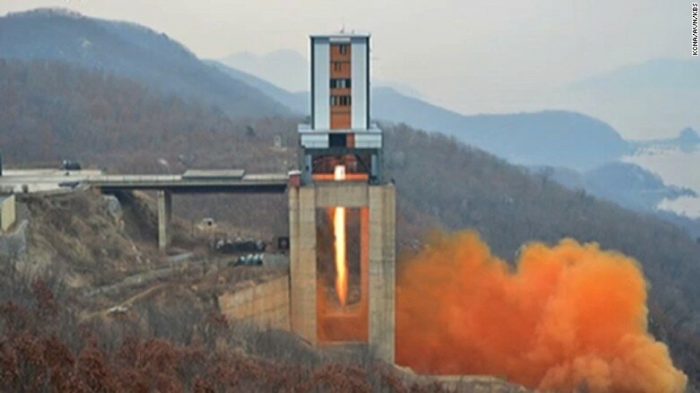 North Korea marked the final day of US Secretary of State Rex Tillerson's Asia visit Sunday by claiming to have tested a new type of rocket engine, underlining the country's defiance of recent calls for calm on the Korean Peninsula.
The test came hours before Tillerson met Chinese President Xi Jinping, the highest level meeting between a US official and China since US President Donald Trump took power in January, CNN reports.
Xi told Tillerson that there are far more shared interests between the two countries than disputes, emphasizing the need for more communication and coordination on matters involving "regional hotspots," according to a statement released by the Chinese foreign ministry.
On Sunday, North Korean leader Kim Jong Un oversaw the successful test of a high-thrust engine, state-run Korean Central News Agency reported, saying the event had "historic significance" that could lead to the "new birth" of the country's indigenous rocket industry.
US President Donald Trump said Sunday that he'd "had meetings on North Korea," and without mentioning North Korean leader by name said "He is acting very very badly. I will tell you he is acting very badly."
Beijing was Tillerson's final stop on his first official trip to Asia, which also included visits to Japan and South Korea.
The trip followed a string of North Korean missile launches, which escalated tensions on the Korean Peninsula and came amid fears Pyongyang is preparing for another nuclear test.
Despite earlier warning that all options — including military action — remained on the table in dealing with Pyongyang, Tillerson refrained from the harsh language that he had used in Tokyo and Seoul upon arriving in Beijing.
Xi and Tillerson leaders met for 30 minutes at the Hall of the People, a statement from State Department spokesman Mark Toner said.
The men "agreed there are opportunities for greater cooperation between China and the United States, but acknowledged there are, and will be in the future, differences between the two countries," the statement said.
Tillerson also said Trump is "anticipating the two will soon be able to meet face to face for discussions that will chart the course for future US-China relations," the statement said.

Load more