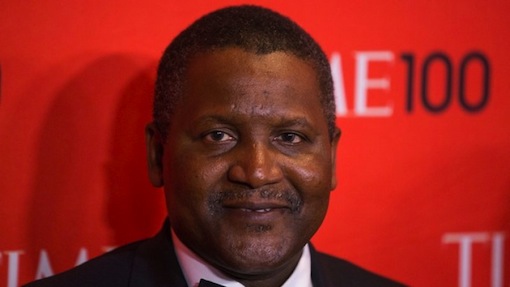 Below is the list of world billionaires for 2017. Nigeria's Aliko Dangote is 105 on the list while Mike Adenuga is number 250.
The list as published on this page is by no means exhaustive. For full details visit Forbes magazine.
This list shows the names of the billionaires, wealth, age, country and business from where they made their billions.
#1 Bill Gates $86 B 61 Microsoft United States
#2 Warren Buffett $75.6 B 86 Berkshire Hathaway United States
#3 Jeff Bezos $72.8 B 53 Amazon.com United States
#4 Amancio Ortega $71.3 B 80 Zara Spain
#5 Mark Zuckerberg $56 B 32 Facebook United States
#6 Carlos Slim Helu $54.5 B 77 telecom Mexico
#7 Larry Ellison $52.2 B 72 software United States
#8 Charles Koch $48.3 B 81 diversified United States
#8 David Koch $48.3 B 76 diversified United States
#10 Michael Bloomberg $47.5 B 75 Bloomberg LP United States
#11 Bernard Arnault $41.5 B 68 LVMH France
#12 Larry Page $40.7 B 43 Google United States
#13 Sergey Brin $39.8 B 43 Google United States
#14 Liliane Bettencourt $39.5 B 94 L'Oreal France
#15 S. Robson Walton $34.1 B 72 Wal-Mart United States
#16 Jim Walton $34 B 68 Wal-Mart United States
#17 Alice Walton $33.8 B 67 Wal-Mart United States
#18 Wang Jianlin $31.3 B 62 real estate China
#19 Li Ka-shing $31.2 B 88 diversified Hong Kong
#20 Sheldon Adelson $30.4 B 83 casinos United States
#21 Steve Ballmer $30 B 60 Microsoft United States
#22 Jorge Paulo Lemann $29.2 B 77 beer Brazil
#23 Jack Ma $28.3 B 52 e-commerce China
#24 Beate Heister & Karl Albrecht Jr. $27.2 B – supermarkets Germany
#24 David Thomson $27.2 B 59 media Canada
#26 Jacqueline Mars $27 B 77 candy United States
#26 John Mars $27 B 81 candy United States
#28 Phil Knight $26.2 B 79 Nike United States
#29 Maria Franca Fissolo $25.2 B 99 Nutella, chocolates Italy
#29 George Soros $25.2 B 86 hedge funds United States
#31 Ma Huateng $24.9 B 45 internet media China
#32 Lee Shau Kee $24.4 B 89 real estate Hong Kong
#33 Mukesh Ambani $23.2 B 59 petrochemicals, oil & gas India
#34 Masayoshi Son $21.2 B 59 internet, telecom Japan
#35 Kjeld Kirk Kristiansen $21.1 B 69 Lego Denmark
#36 Georg Schaeffler $20.7 B 52 automotive Germany
#37 Joseph Safra $20.5 B 78 banking Brazil
#38 Michael Dell $20.4 B 52 Dell computers United States
#38 Susanne Klatten $20.4 B 54 BMW, pharmaceuticals Germany
#40 Len Blavatnik $20 B 59 diversified United States
#40 Laurene Powell Jobs $20 B 53 Apple, Disney United States
#42 Paul Allen $19.9 B 64 Microsoft, investments United States
#43 Stefan Persson $19.6 B 69 H&M Sweden
#44 Theo Albrecht, Jr. $18.8 B 66 Aldi, Trader Joe's Germany
#45 Prince Alwaleed Bin Talal Alsaud $18.7 B 62 investments Saudi Arabia
#46 Leonid Mikhelson $18.4 B 61 gas, chemicals Russia
#47 Charles Ergen $18.3 B 64 satellite TV United States
#47 Stefan Quandt $18.3 B 50 BMW Germany
#49 James Simons $18 B 78 hedge funds United States
#50 Leonardo Del Vecchio $17.9 B 81 eyeglasses Italy
#51 Alexey Mordashov $17.5 B 51 steel, investments Russia
#52 William Ding $17.3 B 45 online games China
#53 Dieter Schwarz $17 B 77 retail Germany
#54 Ray Dalio $16.8 B 67 hedge funds United States
#55 Carl Icahn $16.6 B 81 investments United States
#56 Lakshmi Mittal $16.4 B 66 steel India
#57 Serge Dassault $16.1 B 91 diversified France
#57 Vladimir Lisin $16.1 B 60 steel, transport Russia
#59 Gennady Timchenko $16 B 64 oil, gas Russia
#60 Wang Wei $15.9 B 46 package delivery China
#60 Tadashi Yanai $15.9 B 68 fashion retail Japan
#62 Charoen Sirivadhanabhakdi $15.8 B 72 drinks, real estate Thailand
#63 Francois Pinault $15.7 B 80 luxury goods France
#64 Hinduja family $15.4 B – diversified United Kingdom
#65 David & Simon Reuben $15.3 B 74 investments, real estate United Kingdom
#66 Donald Bren $15.2 B 84 real estate United States
#66 Alisher Usmanov $15.2 B 63 steel, telecom, investments Russia
#68 Lee Kun-Hee $15.1 B 75 Samsung South Korea
#69 Thomas & Raymond Kwok $15 B – real estate Hong Kong
#69 Joseph Lau $15 B 65 real estate Hong Kong
#69 Gina Rinehart $15 B 63 mining Australia
#72 Azim Premji $14.9 B 71 software services India
#73 Marcel Herrmann Telles $14.8 B 67 beer Brazil
#74 Vagit Alekperov $14.5 B 66 oil Russia
#75 Mikhail Fridman $14.4 B 52 oil, banking, telecom Russia
#75 Abigail Johnson $14.4 B 55 money management United States
#77 Pallonji Mistry $14.3 B 87 construction Ireland
#77 Vladimir Potanin $14.3 B 56 metals Russia
#79 Wang Wenyin $14 B 49 mining, copper products China
#80 Elon Musk $13.9 B 45 Tesla Motors United States
#80 Stefano Pessina $13.9 B 75 drugstores Italy
#82 German Larrea Mota Velasco $13.8 B 63 mining Mexico
#82 Thomas Peterffy $13.8 B 72 discount brokerage United States
#84 Iris Fontbona $13.7 B 74 mining Chile
#84 Dilip Shanghvi $13.7 B 61 pharmaceuticals India
#86 Dietrich Mateschitz $13.4 B 72 Red Bull Austria
#87 Harold Hamm $13.3 B 71 oil & gas United States
#87 Robin Li $13.3 B 48 internet search China
#89 Andrey Melnichenko $13.2 B 45 coal, fertilizers Russia
#90 Rupert Murdoch $13.1 B 86 newspapers, TV network United States
#90 Heinz Hermann Thiele $13.1 B 75 brakes Germany
#92 Steve Cohen $13 B 60 hedge funds United States
#92 Patrick Drahi $13 B 53 telecom France
#94 Henry Sy $12.7 B 92 SM Investments Corporation Philippines
#95 Charlene de Carvalho-Heineken $12.6 B 62 Heineken Netherlands
#96 Philip Anschutz $12.5 B 77 investments United States
#96 Ronald Perelman $12.5 B 74 leveraged buyouts United States
#96 Hans Rausing $12.5 B 90 packaging Sweden
#96 Carlos Alberto Sicupira $12.5 B 69 beer Brazil
#100 Klaus-Michael Kuehne $12.4 B 79 shipping Germany
#100 Viktor Vekselberg $12.4 B 59 metals, energy Russia
#102 He Xiangjian $12.3 B 74 home appliances China
#102 Shiv Nadar $12.3 B 71 software services India
#102 Takemitsu Takizaki $12.3 B 71 sensors Japan
#105 Aliko Dangote $12.2 B 59 cement, sugar, flour Nigeria
#105 Petr Kellner $12.2 B 52 banking, insurance Czech Republic
#105 Jim Kennedy $12.2 B 69 media United States
#105 Blair Parry-Okeden $12.2 B 66 media United States
#109 Lui Che Woo $12.1 B 87 casinos Hong Kong
#109 Donald Newhouse $12.1 B 87 media United States
#109 Samuel Newhouse, Jr. $12.1 B 89 media United States
#112 Stephen Schwarzman $11.8 B 70 investments United States
#112 Alain Wertheimer $11.8 B 68 Chanel France
#112 Gerard Wertheimer $11.8 B 66 Chanel France
#115 Robert Kuok $11.4 B 93 palm oil, shipping, property Malaysia
#116 Emmanuel Besnier $11.3 B 46 cheese France
#116 Lukas Walton $11.3 B 30 Wal-Mart United States
#118 Hasso Plattner $11.2 B 73 software Germany
#119 Eric Schmidt $11.1 B 61 Google United States
#120 Luis Carlos Sarmiento $11 B 84 banking Colombia
#120 David Tepper $11 B 59 hedge funds United States
#120 Udo & Harald Tschira $11 B – software Germany
#123 Alberto Bailleres Gonzalez $10.8 B 85 mining Mexico
#124 Dustin Moskovitz $10.7 B 32 Facebook United States
#125 Majid Al Futtaim $10.6 B – real estate, retail United Arab Emirates
#126 Peter Woo $10.5 B 70 real estate Hong Kong
#127 Andrew Beal $10.4 B 64 banks, real estate United States
#128 Hui Ka Yan $10.2 B 58 real estate China
#128 John Menard, Jr. $10.2 B 77 home improvement stores United States
#130 Reinhold Wuerth $10 B 81 fasteners Germany
#131 John Fredriksen $9.9 B 72 shipping Cyprus
#132 Dhanin Chearavanont $9.7 B 77 diversified Thailand
#133 Kumar Birla $9.5 B 49 commodities India
#133 Graeme Hart $9.5 B 61 investments New Zealand
#133 Massimiliana Landini Aleotti $9.5 B 74 pharmaceuticals Italy
#133 Galen Weston $9.5 B 76 retail Canada
#137 James Goodnight $9.4 B 74 software United States
#138 German Khan $9.3 B 55 oil, banking, telecom Russia
#139 Roman Abramovich $9.1 B 50 steel, investments Russia
#140 R. Budi Hartono $9 B 76 banking, tobacco Indonesia
#140 Dietmar Hopp $9 B 76 software Germany
#140 Jan Koum $9 B 41 WhatsApp United States
#140 James Ratcliffe $9 B 64 chemicals United Kingdom
#140 Yang Huiyan $9 B 35 real estate China
#145 Michael Hartono $8.9 B 77 banking, tobacco Indonesia
#145 Leonard Lauder $8.9 B 80 Estee Lauder United States
#145 Eyal Ofer $8.9 B 66 real estate, shipping Israel
#145 Mikhail Prokhorov $8.9 B 51 investments Russia
#149 Thomas Frist, Jr. $8.8 B 78 health care United States
#150 Robert & Philip Ng $8.7 B – real estate Singapore
#151 Ernesto Bertarelli $8.6 B 51 biotech, investments Switzerland
#151 Patrick Soon-Shiong $8.6 B 64 pharmaceuticals United States
#153 Harry Triguboff $8.5 B 84 property Australia
#154 Yao Zhenhua $8.4 B 47 conglomerate China
#154 Zhang Zhidong $8.4 B 45 internet media China
#156 Viktor Rashnikov $8.3 B 68 steel Russia
#156 Charles Schwab $8.3 B 79 discount brokerage United States
#158 Shahid Khan $8.2 B 66 auto parts United States
#159 Mohammed Al Amoudi $8.1 B 70 oil, diversified Saudi Arabia
#159 Micky Arison $8.1 B 67 Carnival Cruises United States
#159 James Chambers $8.1 B 59 media United States