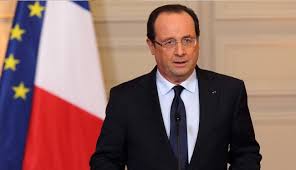 An audience measurement agency "Media metrie" said some 9.8 million viewers tuned in to Monday night's French presidential debate.
Mediametrie said that the debate reached 47.9 per cent of the country's television audience.
The debate saw heated exchanges between far-right candidate Marine Le Pen and her centrist and leftist rivals on issues such as immigration, law and order, and secularism and Islam.
Centrist former economy minister Emmanuel Macron appeared the clear winner of the debate, despite his lack of electoral experience, according to a snap poll for broadcaster BFMTV afterwards.
Opinion polls on voting intentions suggest Macron is likely to come second behind Le Pen in April's first round of voting and is favoured to beat her in the decisive run-off vote on May 7.
Some 29 per cent of viewers polled found Macron the most convincing candidate, with radical leftist Jean-Luc Melenchon, conservative Francois Fillon and Le Pen bunched together on 19 to 20 per cent.
Fillon, lagging in third place in the polls amid allegations he gave his wife a lucrative fake job as his parliamentary assistant, stood aloof from most of the cut and thrust of the debate but emphasised his own experience as prime minister.
He pushed his austerity-based economic programme, while warning that Le Pen's plan to leave the euro would lead France into chaos.

Load more