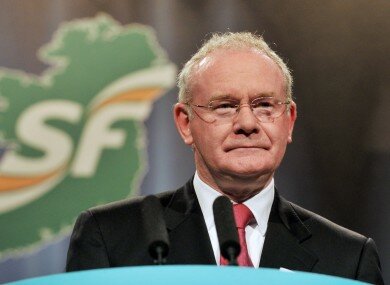 Sinn Féin's Martin McGuinness, Northern Ireland's former deputy first minister, has died aged 66.
It is understood he had been suffering from a rare heart condition.
The former IRA leader turned peacemaker worked at the heart of the power-sharing government following the 1998 Good Friday Agreement.
He became deputy first minister in 2007, standing alongside Democratic Unionist Party leaders Ian Paisley, Peter Robinson and Arlene Foster.
Mr McGuinness stood down from his post in January in protest against the DUP's handling of an energy scandal, in a move that triggered a snap election.
Martin McGuinness grew up in Derry's Bogside, radicalised by discrimination and murder on the streets of his city.
In 1972, at the age of 21, he was second-in-command of the IRA in Derry at the time of Bloody Sunday, when 14 civil rights protesters were killed in the city by soldiers.
He had a leading role in the IRA during a time when the paramilitary organisation was bombing his home city to bits.
He was convicted by the Republic of Ireland's Special Criminal Court after being arrested near a car containing explosives and ammunition. He served two prison sentences – he was also convicted for IRA membership.
But his leadership potential was spotted early and he was just 22 years old when he and Gerry Adams were flown to London for secret talks with the British government: MI5 considered him serious officer material with strategic vision.
He maintained that he left the IRA in 1974, making the transition to politics.
The years that followed saw the IRA hunger strikes, the Brighton bombing when Margaret Thatcher and the Tory Party conference were targeted and the Enniskillen bomb in 1987, in which 11 people died.
The shift to politics came slowly. Martin McGuinness was chief negotiator in the blossoming peace process and took on the post of education minister.
By 2007, he was Northern Ireland's deputy first minister standing alongside First Minister Ian Paisley. The two forged an unlikely alliance – but they were working together for the same goal.
He worked along DUP first minister Peter Robinson and, until January, was in office with Arlene Foster.
Among the seismic moments in his time in government was the famous handshake with Queen Elizabeth II and a toast to her Majesty at Windsor Castle.
In recent years, he said: "My war is over. My job as a political leader is to prevent that war and I feel very passionate about it."
Save

Load more