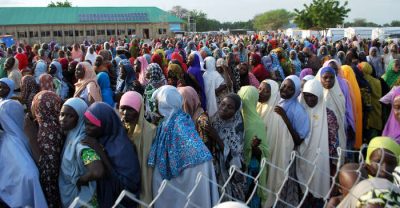 The Nigeria Security and Civil Defence Corps (NSCDC) has intercepted two persons with 4,000 sachets of therapeutic food meant for malnourished children in Internally Displaced Persons (IDPs) camps in Borno.
The Corps Commandant, Ibrahim Abdullahi, made the disclosure in an interview in Maiduguri on Tuesday.
Abdullahi said that the suspects were nabbed at the Borno Express motor park in Maiduguri while trying to smuggle the items out of town.
According to him, the Ready To Use Therapeutic Food (RTUTF) was distributed by some Non-Governmental Organisations to nursing mothers in the IDPs camps to tackle malnutrition among children below five years.
"They are merchants who normally patronise relief materials donated to IDPs by international organisation. You can imagine that they came from Kano just to exploit the IDPs.
"They said this was not the first time they came to buy relief materials from the IDPs.
"Normally they have informants who always inform them of any distribution of relief materials in the camps.
"It is very disheartening how people always take advantage of the victims of violence because of the condition they found themselves.
"You will recall that the command had nabbed some culprits who defrauded 9,000 IDPs of the sum of N29 million under the guise of providing rice to them.
"The IDPs themselves are not helping matters as they don't pity themselves and their living conditions.
"This is meant to help their children who are malnourished, but they prefer to sell the items and come back to say the government is not taking care of them.
"It will interest you to note that some of the IDPs are merchants.
"Many times our officers inform us that whenever foodstuff is distributed in camps, the IDPs always stormed the markets to sell what was given to them.
"We are boosting our surveillance in various locations to curb this menace and I assure you that culprits will be prosecuted," said Abdullahi.
However, Hassan Sale, one of the suspects said they normally buy the fortified food from nursing mothers in the IDPs camp.
"I bought this one from Zannari IDPs camp. We usually buy the product at the rate of N30 while we sell at N60 to our customers in Kano.
"This is the second time that I came into the town, the first was two weeks ago."

Load more