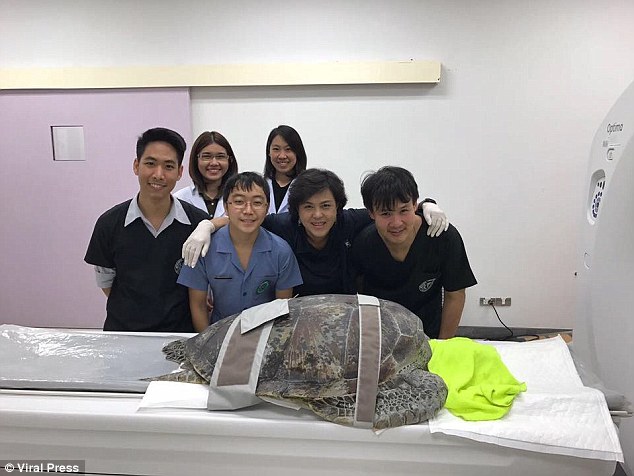 A sea turtle that swallowed nearly a thousand coins died of blood poisoning on Tuesday inspite of an initial successful operation, said doctors.
Earlier in March, a team of Thai veterinary surgeons at Bangkok's Chulalongkorn University successfully removed a total of 915 coins weighing five kgms from the turtle's stomach, the world's first such surgery.
The condition of Omsin, Thai for "piggy bank,'' improved considerably after the operation, and she could be seen swimming after being unable to move her limbs earlier.
Omsin's improvement did not last long, however, as the veterinarians discovered her condition was suddenly deteriorating on Saturday.
The team decided to operate on Omsin again after finding excessive gas in her resulting from an inflamed and twisted intestine.
"We have tried our best but we couldn't save her,'' said Nantarika Chansue, one of the veterinarians operating on Omsin.
Omsin, a 25-year-old female green sea turtle weighing 59 kgms, was sent from a local turtle pond to the Thai navy's Sea Turtle Conservation Centre after the local operator closed down in June.
In February, veterinarians at the Bangkok University asked the navy to send Omsin to its animal hospital for a check-up, after the team found the turtle to be swimming sideways without using her left leg.
Nantarika said she thought at first the turtle was semi-paralysed but an X-ray and a CT scan revealed a massive chunk of objects in her stomach.
Tossing coins into ponds is believed by many to bring good luck, and, in ponds with turtles, longevity, as the animals can live well over 100 years.

Load more