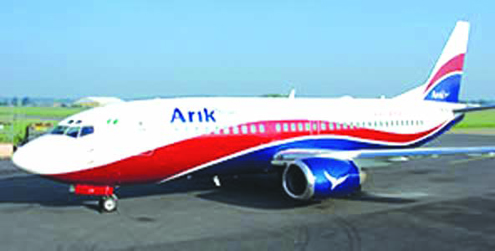 The labour unions in the aviation sector have threatened to shut down the operations of Arik Air on Thursday over the airline's management's failure to reinstate its sacked members and other issues.
The unions are: the National Union of Air Transport Employees (NUATE), Air Transport Services Senior Staff Association of Nigeria (ATSSSAN) and the National Association of Aircraft Pilots and Engineers (NAAPE).
The Asset Management Corporation of Nigeria (AMCON) had on February 9 taken over the airline.
The takeover was as a result of the airline's huge indebtedness to the company and other creditors, both local and foreign.
AMCON had thereafter appointed Captain Roy Ilegbodu, as manager of the airline, under the receivership of Mr Oluseye Opasanya, a Senior Advocate of Nigeria (SAN).
However, Mr Olayinka Abioye, General Secretary, NUATE, who spoke on behalf of the unions on Wednesday in Lagos, accused the new management of intolerance to unionism.
Abioye said workers seeking to join the unions had the right to do so under Section 40 of the Constitution of the Federal Republic of Nigeria, 1999 and other International Conventions.
He, however, alleged that the new management, through a circular recently warned the workers not to join the unions in the industry and had refused to address all the pending issues, as they affected the workers.
"Among the issues are the review of conditions of service, remittance of necessary union deductions to their respective unions and the non re-instatement of sacked union leaders in the airline,'' he said.
Abioye recalled that the unions in December 2016, had issues with the former management of the airline, which led to the shutdown of Arik's operations for a day, before the intervention of the Nigerian Civil Aviation Authority (NCAA).
"Certain commitments were arrived at from the meeting and we were supposed to have a feedback early this year.
"When we got there, the former Arik Air management was not in sight and we later learnt that the AMCON management has taken over the airline.
"As expected from responsible union bodies, we wrote a letter to the new management seeking for a meeting with them, which was approved.
"We got to that meeting and the airline's Receiver Manager, acted in an 'uncivilised' manner.
"He walked out the leaders of the three unions and asked his bodyguards to send us out.
"Contrary to expectation, a circular was issued by the carrier's Vice President, Human Resources, to the effect that Arik workers should shun unionism.
"The circular said this is because the airline had zero tolerance for trade unions. That it was a criminal offence,'' he said.
Abioye said after the scenario that played out, the same management wrote a petition against the unions to the Inspector-General of Police, claiming that the unions had threatened him.

Load more