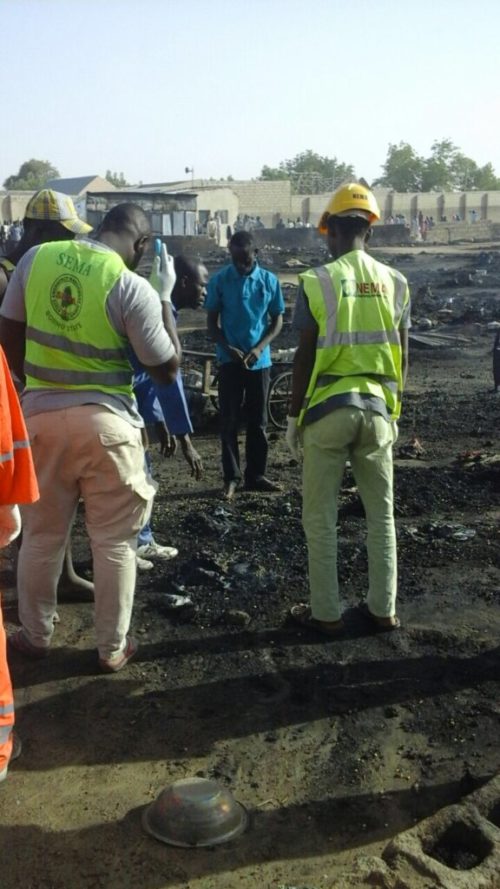 Multiple blasts at camps for people who have fled the Islamist militants Boko Haram killed four and injured 18 in the northeastern Nigeria city of Maiduguri, the state police commissioner said on Wednesday.
But officials of the National Emergency Management Agency said the attacks claimed eight lives and left at least 20 people injured.
The attacks were the latest in a series in the past week. In a video circulated on Friday, a man claiming to be Boko Haram's leader claimed responsibility for bombings in Maiduguri and a raid in a nearby town last week. Bombings near the city killed four on Sunday.
Borno Police Commissioner Damian Chukwu said the latest blasts happened at around 04:30 a.m.
"Three bomb explosions occurred this morning at three different locations near Muna Garage, Maiduguri. Four people were killed and 18 people injured," he said.
Chukwu said two of the blasts happened at camps for people displaced by Boko Haram. The frequency of attacks has increased since the end of the rainy season in late 2016.
Maiduguri has been the city worst hit by Boko Haram's eight-year-old campaign to create an Islamic caliphate in northeastern Nigeria. Its attacks have killed about 15,000 people and forced more than 2 million to flee their homes, Reuters reports.
However, the Northeast information officer of the Agency, AbdulKadir Ibrahim, in a statement said the attacks were simultaneously executed at about 4 am.
He said, "Series of bomb blast have occurred in three locations around Muna Garage area of Maiduguri metropolis. The incidents occurred at about 4 am.
"The first location is Muna Kumbori an unofficial host community camp housing 199 internally displaced persons attacked by three suicide bombers which led to the death of two persons.
"The second location is Muna Dagalti which was attacked by a suicide bomber killing another person. The third location is Muna Bulaya attacked by a suicide bomber who was the only casualty," the statement obtained by PUNCH said.
Ibrahim said that five suicide bombers, all males, carried out the attacks
He said, "A total of five suicide bombers all male adults were involved in the incidents killing three persons. 20 people with various degrees of injuries were administered with first aid by Emergency response team and transported to the State Specialist Hospital while the remains of the dead have been deposited in the mortuary."

Load more