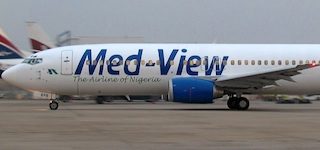 The Emir of Kano, Muhammad Sanusi II on Wednesday commended the management of Med-view Airline for extending its domestic flight operations to Kano State.
Sanusi gave the commendation when he received the Managing Director of the airline, Alhaji Muneer Bankole, who visited him at his palace in Kano.
Bankole made the royal visit, shortly after the airline's inaugural flight from Lagos to Kano touched down at Malam Aminu Kano International Airport on Wednesday.
The Emir expressed happiness that Med-view had come to the city of Kano, known as the nation's centre of commerce.
He was optimistic that the people of Kano would patronise the airline's services.
According to him, the coming of Med-view and other airlines is a welcome development as it will boost economic activities in the state.
Sanusi also advised the airline to deploy wider body aircraft for hajj operations in the state in order to attract more patronage.
As a sign of his confidence in its services, the Emir assured that he would travel to Lagos with the Airline's evening flight from Kano later in the day.
Speaking earlier, Bankole said he was at the palace to intimate the Emir about the airline's new scheduled domestic flight operations to Kano.
Bankole said the importance of Kanoas a centre of commerce and religion, could not be ignored.
This, the managing director said informed the airline's decision to extend its operations to the ancient city in order to link it with Lagos and Kaduna route.
According to him, the airline will operate two daily flights to Kano on Mondays, Wednesdays and Fridays as well as one flight on Sundays.
"The morning flight leaves Lagos at 6.50 a.m, and arrives at 8.10 am while the return journey will be routed through Kaduna International Airport.
"The afternoon flight at 12.30 p.m from Lagos will be routed via Kaduna to give passengers transiting Kano the opportunity to connect their flights to foreign destinations like Jeddah and Dubai,'' Bankole said.
Aviation officials and other top dignitaries were at the airport to witness the inaugural flight as it landed.

Load more